Here are the 10 best looks from episode 7 of 'Pose,' including a fringe bikini and alien fantasies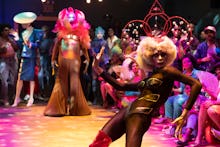 After a few episodes of FX's Pose fell on the more dramatic, heart-wrenching end of the spectrum, episode seven was free to have a little bit more fun — especially when it came to the main runway, a club kid-inspired "intergalactic best dressed bizarre" category.
But, as ever, Elektra Abundance (Dominique Jackson) — despite getting evicted from her posh loft — served a veritable platter of jaw-dropping looks. Her fashion game remains unmatched.
Before we start, a quick note: This episode, I had to break my unspoken rule of never including the interminably boring Stan or Patty Bowes (Evan Peters and Kate Mara, respectively), but only because Stan just so happened to be standing next to Angel (Indya Moore) when she was wearing something particularly glam. I didn't technically honor anything they wore, so, I'll allow it (But I'm still bitter.)
Here we go.
10. A group shout-out for this colorful athleisure moment
9. Elektra's commute-to-work ensemble
8. Blanca's parent-teacher conference realness denim jumpsuit
7. Angel's traffic cone orange dress (Stan was also there)
6. Elektra's "oh crap, I just got evicted" pink, spotted dress
5. Elektra's marigold wrap dress
4. Elektra (yes, again, deal with it) in her "Private Dancer" fringe bikini
3. This candy red, top-knot, latex jumpsuit with Amanda Lepore lips
2. This LSD-infused Super Mario villain
1. This queer Guillermo del Toro moment of alien horror