6 notable moments from the "disgraceful" Trump-Putin summit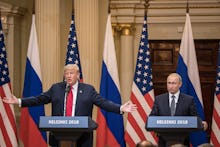 President Donald Trump delivered on Monday what was quickly denounced as one of the most disgraceful performances ever by an American president after he sided with Russian President Vladimir Putin over U.S. intelligence agencies regarding the issue of Russia's interference in the 2016 presidential election — a position that's adding fuel to speculation that the Kremlin has compromising information on Trump.
Trump declined when presented with the chance to condemn Russia's actions and demand Putin stay out of future American elections.
And rather than blame Russian aggression for the cold relationship between the two countries, he accused Americans — especially Democrats — of being at fault.
Former CIA director James O. Brennan went so far as calling Trump's conduct "treasonous." A handful of Republicans have similarly denounced Trump's behavior.
Here are the six most notable moments from the Trump-Putin summit Monday.
1. Trump blamed Mueller probe for decline in U.S.-Russia relations
Forget the fact the entire U.S. intelligence community unequivocally stated that Russia meddled in the 2016 presidential election. Trump said Monday it's actually special counsel Robert Mueller's fault that U.S.-Russia relations are at a low point.
"I do feel that we have both made some mistakes," Trump said. "I think that the probe is a disaster for our country. I think it's kept us apart. It's kept us separated. There was no collusion at all."
2. Putin admitted he wanted Trump to defeat Hillary Clinton
One question regarding Russia's interference in the 2016 election is whether Putin merely wanted to sow discord — or if he wanted Trump to win.
On Monday, the country got its answer.
"Yes I did," Putin said when asked by a reporter if he wanted Trump to win, according to a translator. "Because he talked about bringing the US-Russia relationship back to normal."
3. Trump said he believed Putin over the U.S. intelligence community
A U.S. reporter explicitly asked Trump whether he believed his intelligence community's conclusion about Russia's election hacking or Putin's denial. The reporter also gave Trump the opportunity to turn to Putin and tell him to stay out of U.S. elections.
However, Trump said he was persuaded by Putin's denials and declined to demand that Russia stay out of future elections — a move Republicans and Democrats alike have denounced.
"My people came to me, [Director of Nat'l Intelligence] Dan Coats came to me, some others, they said they think it's Russia," Trump said at the press conference. "I have President Putin. He just said it's not Russia. I will say this, I don't see any reason why it would be."
4. Trump tried to deflect questions by mentioning Clinton's email server
It's become a political meme: When Trump supporters and Republicans can't defend Trump's actions, they revert back to Clinton's use of a private email server.
Trump did just that Monday, questioning why Clinton's emails weren't being investigated but his alleged collusion with Russia still is.
"What happened to the servers?" Trump said, later bringing up a debunked conspiracy theory about a Pakistani aide to former Democratic National Committee chairman Debbie Wasserman Schultz.
"What happened to the servers of the Pakistani gentleman that worked on the DNC? Where are those servers, they're missing, where are they?" Trump added.
Mueller's team had the DNC server, Mother Jones' Dan Friedman tweeted Monday. According to Friday's indictment of 12 Russian military officers, the server was turned over to the FBI and forensically investigated.
"What happened to Hillary Clinton's emails?" Trump continued. "Thirty-three-thousand emails gone, just gone. I think in Russia they wouldn't be gone so easily."
5. Putin mentioned information that was presented in the infamous Trump Tower meeting
Trump has continually denied his campaign colluded with Russia or with Putin. However, Putin himself brought up information that was presented to Trump's jailed former campaign chairman Paul Manafort, son Donald Trump Jr. and son-in-law Jared Kushner during the infamous 2016 meeting with a Kremlin-connected lawyer Natalia Veselnitskaya in Trump Tower.
Putin alleged that associates to Bill Browder — a Putin enemy — donated $400 million in Russian money to Clinton's campaign. That allegation was included in talking points Natalia Veselnitskaya brought to the meeting that promised dirt on Clinton, according to the New York Times.
6. Putin refused to deny Russia has compromising information on Trump
Putin laughed when an American reporter asked whether Russia has compromising information on Trump — remember the "pee tape"? — but didn't deny it.
Instead, Putin claimed he didn't even know Trump was in Moscow when the alleged incident — in which Trump is accused of watching Russian prostitutes urinate on a bed former President Barack Obama once slept in — took place.
"I did hear these rumors that we allegedly collected compromising material on Mr. Trump when he was visiting Moscow," Putin said, according to a translator. "Well, distinguished colleague, let me tell you this: When President Trump was at Moscow back then, I didn't even know that he was in Moscow. I treat President Trump with utmost respect, but back then when he was a private individual, a businessman, nobody informed me that he was in Moscow."
What it all means
As the shock of the news conference wears off, the analysis about what it means now begins.
In the immediate aftermath, pundits are questioning what Trump said to Putin behind closed doors, given how quickly he publicly threw his own intelligence community under the bus.
In the same vein, political watchers are also wondering whether Putin held anything over Trump's head in order to elicit such a performance.
But most importantly, all eyes will be on Republican leaders in Washington, D.C., to see how they react and whether they condemn Trump's conduct.
House Speaker Paul Ryan (R-Wis.) originally supported the U.S. intelligence community's assessment of the 2016 election hacking.
"There is no question that Russia interfered in our election and continues attempts to undermine democracy here and around the world," Ryan said in a statement at the time. "That is not just the finding of the American intelligence community but also the House Committee on Intelligence. The president must appreciate that Russia is not our ally. There is no moral equivalence between the United States and Russia, which remains hostile to our most basic values and ideals. The United States must be focused on holding Russia accountable and putting an end to its vile attacks on democracy."
Yet immediately after the news conference, Trump gave interviews to sycophantic Fox News commentators Sean Hannity and Tucker Carlson, who often help shape the conversation when Trump slips up and give supporters a roadmap for how to respond to criticism after an event. The tune of GOP lawmakers could change once those interviews air Monday night.