Latest indictment hits Russian acting as unregistered foreign agent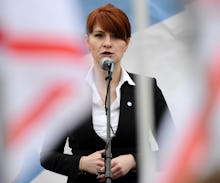 Just a few hours after Trump took the side of Russian President Vladimir Putin and blamed special counsel Robert Mueller for poor relations between the U.S. and Russia, the Department of Justice unsealed an indictment against yet another Russian national, charging her with "conspiracy to act as an agent of a foreign government."
Maria Butina was arrested Sunday and later charged with trying to "exploit personal connections with U.S. persons having an influence in American politics" as well as trying to "infiltrate organizations active in U.S. politics in an effort to advance the interests of the Russian Federation without prior notification to the attorney general."
According to an affidavit from the Justice Department, Butina tried to set up a back-channel line of communication between Russia and "political party leaders" through a "gun rights organization." According to previous reporting, the party is the GOP and the organization is the National Rifle Association.
A February report from the Daily Beast showed that Butina was connected to Trump campaign aides and other Republican aides — even attending an invite-only ball for President Donald Trump's inauguration.
NPR also reported in March that Butina was also in contact with the NRA.
And according to the Washington Post's Carol Leonning, who reports on the special counsel investigation, "Butina tried to arrange get-together between Trump and Putin during campaign, was a favored friend of the NRA."
Butina twice attempted to set up a meeting between Trump and Putin during the campaign, according to the New York Times.
"THIS IS BIG," Leonning tweeted after news of the indictment broke.