Federal judge temporarily halts deportations of separated immigrant families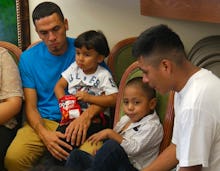 A federal judge has temporarily blocked the U.S. government from deporting families it had forcibly separated at the Southern border, notching another victory for the American Civil Liberties Union as it seeks justice for immigrants and refugees.
San Diego District Judge Dana Sabraw, the same judge who on June 26 issued a preliminary injunction on the family separations happening at the border as part of the Trump administration's "zero-tolerance" immigration policy, issued the temporary restraining order Monday.
As part of the preliminary injunction, Sabraw ordered the swift reunification of the estimated 3,000 children who had been separated from their parents. The final deadline for all reunifications is July 26, but the government already missed its first deadline, which required the reunification of all children under 5 by July 10.
In a press release, the ACLU said it filed the emergency motion out of fear the U.S. government "would quickly deport, without oversight or due process, the separated families."
In his order, Sabraw granted a stay on deportations until at least July 23.
On Friday, a federal judge in Connecticut ruled the government had violated the constitutional rights of two minor children, known in court documents only as "J.S.R." and "V.F.B.," by separating them from their parents. During official testimony, a child psychiatrist who had worked with the children said both had demonstrable symptoms of post-traumatic stress disorder.
In response to Monday's news of the temporary stay on deportations, Lee Gelernt, deputy director of the ACLU's Immigrants' Rights Project, said Sabraw had "once again made clear that the government unconstitutionally took these children away and now must do everything in its power to reunite them safely and by the deadline."
Sabraw's ruling is temporary "pending further briefing," the ACLU said.