Mic Daily: The worst moments from that "disgraceful" Trump-Putin summit and more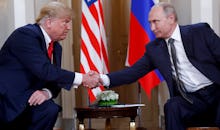 Welcome to Mic Daily: Mic's newsletter that cuts through the noise and lands in your inbox every weekday. We carefully curate each edition to send you a cross section of our most vital stories of the day. Want to receive this as a daily email in your inbox? Subscribe here.
Before we kick off today's Mic Daily, we have a special announcement: Join us in New York City! To celebrate the launch of Mic's new show, Mic Dispatch, we're hosting a live interview with New York gubernatorial candidate Cynthia Nixon, and New York congressional candidate Alexandria Ocasio-Cortez on Wednesday at Mic's offices. For an exclusive invitation to the event, be one of the first 25 people to sign up for alerts on new episodes here.
Mic Dispatch is going beyond the headlines to profile the underrepresented, the problem-solvers and the provocateurs. New episodes will air every Tuesday and Thursday at 8 p.m. Eastern on Facebook Watch.
All right, we're back to our regularly scheduled programming.
President Donald Trump delivered on Monday what was quickly denounced as one of the most disgraceful performances ever by an American president after he sided with Russian President Vladimir Putin over U.S. intelligence agencies on the issue of Russia's interference in the 2016 presidential election — a position that's adding fuel to speculation that the Kremlin has compromising information on Trump.
A federal judge in Connecticut has ruled that the forced separation of two immigrant children from their parents is unconstitutional, and issued a preliminary injunction granting both children resources for coping with post traumatic stress disorder resulting from the U.S. government's policy.
Comedian Sacha Baron Cohen's new Showtime series Who is America?premiered to mix reviews Sunday. The new series has the Borat star up to his old tricks, dressing up in convincing costumes and duping unsuspecting Americans — some famous, some not — into interviews in which Cohen pushes the boundaries of etiquette, acceptability or even morality itself.
Just a few hours after Trump took Putin's side and blamed special counsel Robert Mueller for poor relations between the U.S. and Russia, the Department of Justice unsealed an indictment against yet another Russian national, charging her with "conspiracy to act as an agent of a foreign government."
A new lawsuit alleges that the team behind the hit 2017 podcast S-Town exploited the show's subject, John B. McLemore, claiming the show revealed details of McLemore's private life without his consent. S-Town, produced by the makers of Serial and This American Life, was hosted by TAL producer Brian Reed.