Hype Daily: VMA nominations, Patrick Stewart's bees and more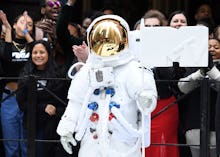 Don't forget, Mic's new, correspondent-led newsmagazine show, Mic Dispatch, will premiere today, July 17. Twice a week, our news team will bring you exclusive reporting on this momentous cultural era the way we see it: complicated, diverse and full of potential. Subscribe here for alerts on new episodes, and tune in Tuesdays and Thursdays on Facebook. Watch here.
And now, on to Hype Daily, Mic's morning entertainment roundup. Here's everything you need to catch up on in the entertainment world and what to look forward to today. Want to receive this as a daily email in your inbox? Subscribe here.
Good morning from Hype reporter Anna Swartz.
MTV VMA nominations came out Monday
Nominations for this year's MTV Video Music Awards came out yesterday and Cardi B led the pack, with a total of 10 noms, including artist of the year and best new artist. Beyoncé and Jay-Z had the second-most nominations, with a total of eight.
In a change from past years, Taylor Swift wasn't nominated in any of the big categories, although her "Look What You Made Me Do" video scored nods for editing, art direction and visual effects. The VMAs will be in New York City this year and air live on MTV Monday, Aug. 20.
The first images of the new She-Ra are out
There's a new She-Ra cartoon, She-Ra and the Princesses of Power, coming this November, via a collaboration between Netflix and DreamWorks. Yesterday, we got a first look at the upcoming series — thanks to showrunner Noelle Stevenson, who tweeted out some images — and we're happy to report 2018 She-Ra looks great. In an interview with Entertainment Weekly, Stevenson said she has only become more and more passionate about adapting the '80s cartoon since she first started the project.
"[She-Ra] has this majority female cast, it's centered around a female hero, it's got rainbows and it's got robots, it's got everything I like in one place," Stevenson said. "When you're working on a pitch, you have no idea if it'll go or not, or really what will happen. At that stage, anything can happen, so it's best not to get too attached to what you're working on. But I realized at one point, 'Oh my God, I love this, I really, really want this.' Two and a half years later, I've only gotten more entrenched in it. It is very, very dear to me."
Timothée Chalamet might star in Denis Villeneuve's Dune remake
Call Me By Your Name star Timothée Chalamet is reportedly in "negotiations" to star in a new adaption of the 1965 Frank Herbert sci-fi novel Dune, according to Variety. The new adaptation will be directed by Blade Runner 2049 visionary Denis Villeneuve. (David Lynch directed a film version of Dune in 1984.)
Dune is the story of a distant future where elite, noble families control whole planets — and protagonist Paul Atreides and his family control a desert planet where a rare and precious spice is produced. A sci-fi epic would be a new type of project for Chalamet who will star in the upcoming drama Beautiful Boy alongside Steve Carell, this October.
Patrick Stewart has bees
File this under good news — 78-year-old Sir Patrick Stewart has finally fulfilled what was apparently a lifelong dream of becoming a beekeeper. The actor tweeted Monday, "Since I was a child, I've fantasized about keeping bees, and I finally am. BeeStew!" Mazel tov to Stewart and his bees. May you have many happy years together.
Put this on your radar: ABBA by Cher?
Starring in Mamma Mia! Here We Go Again has apparently given Cher the ABBA-bug. The singer apparently told Kathie Lee Gifford in an interview that she's recorded a whole album of ABBA covers, Jezebel reported Tuesday. "After I did 'Fernando,' I thought it would really be fun to do an album of ABBA songs, so I did," the singer and icon said. So stay tuned for that!