Today in Trump's America: Sean Hannity, Tucker Carlson may be the only Republicans praising Trump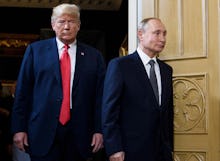 Welcome to Mic's daily read on Donald Trump's America. Want to receive this as a daily email in your inbox? Subscribe here.
Good morning from Emily Singer at Mic.
Here's what's happening in Trump's America:
• Trump has a light schedule after returning from his European trip during which he hurt relationships with allies and cozied up to Russian President Vladimir Putin.
About last night: Hannity, Carlson may be the only Republicans praising Trump
Leave it to the Fox News' sycophantic prime time hosts to praise Trump for his performance at a news conference with Russian President Vladimir Putin Monday.
Trump cast doubt on his own intelligence community's assessment that Russia interfered in the 2016 election and refused to turn to Putin and tell him to stay out of future American elections.
Sean Hannity and Tucker Carlson both interviewed Trump after the Trump-Putin summit in Helsinki, and both refused to push back on Trump's behavior that other Republicans have called "disgraceful."
Hannity told Trump he was right to question why the Democratic National Committee didn't better defend itself against cyberattacks. (Trump lied during the news conference by saying the DNC servers were "missing.")
"You were very strong at the end of that press conference," Hannity told Trump during a sit-down interview after the news conference. "You said, 'Where are the servers? What about what Peter Strzok says? Where are the 33,000 emails?'"
And Carlson used literal white supremacy to defend Trump's news conference.
"I mean I'm not a shrink, so I don't fully understand it. I mean I don't think Russia is our close friend or anything like that. I mean, of course, they tried to interfere in our affairs; they have for a long time. Many countries do. Some more successfully than Russia, like Mexico which is routinely interfering in our elections by packing our electorate," Carlson said, suggesting Mexican immigrants who become naturalized citizens and vote are somehow illegitimate voters.
Former FBI Director James Comey criticized Trump for sitting down with Hannity and Carlson.
"Having sold out our nation on an international stage, Mr. Trump will now explain it all to Sean Hannity and Tucker Carlson? I'm guessing RT and [Sputnik] were unavailable. He owes it to our nation to sit down with a serious journalist," Comey tweeted.
While Hannity and Carlson tried to spin Trump's performance, Fox News reporter Chris Wallace sat down with Putin — who had admitted earlier, during the news conference, that he wanted Trump to win over Hillary Clinton.
Wallace pushed Putin to admit to election hacking, but rather than admit to it, Putin — like Trump — blamed Democrats for the cyberattacks. Putin said DNC officials' conduct was to blame for discontent within the party, not the cyberattacks that exposed their private email communications.
"As far as I know, the entire party leadership resigned," Putin told Wallace. "They admitted the fact of their manipulations. So, that's one thing — that manipulation is where public opinion should stop, and an apology should be made to the public at large."
Today in Trump's America: Republicans face choice of defending or criticizing Trump
Congress is back in Washington, and that means Republican members of Congress will have to face reporters who will ask whether they approve of Trump's conduct at the summit with Putin.
Some GOP lawmakers have already criticized Trump for his actions, none more forcefully than Sen. John McCain (R-Ariz.), who remains in Arizona as he battles brain cancer.
"Today's press conference in Helsinki was one of the most disgraceful performances by an American president in memory," McCain said in a lengthy statement. "The damage inflicted by President Trump's naiveté, egotism, false equivalence and sympathy for autocrats is difficult to calculate. But it is clear that the summit in Helsinki was a tragic mistake."
Others, like Senate Majority Whip John Cornyn, refused to condemn Trump for taking Putin's side over the U.S. intelligence community.
"He's the president of the United States. He's the choice of the voters," Cornyn told reporters Monday when asked whether he agreed with Trump's words. "And like I said, I think he's conflated some issues, and I would try to keep those issues separate. But he represents the United States, and I'm always going to support the president — particularly abroad."
And the rest…
House Republicans scrap troll vote on abolishing ICE: House Republicans were set to put a bill to abolish the Immigration and Customs Enforcement agency to a vote in order to get Democratic lawmakers on record about the policy. But when they realized Democrats wouldn't take the bait on their trolling attempt, Republican leaders scrapped the plan, according to Politico.
Russian spy arrested: Hours after Trump's summit with Putin, the Department of Justice unsealed records that showed a Russian woman was arrested and charged with being an unregistered Russian agent who worked with Americans to influence U.S. politics. Maria Butina, 29, was trying to set up meetings between Trump and Putin in 2016, but she was not successful. She allegedly used the National Rifle Association to try to move the GOP to adopt pro-Russia policies.