Lin-Manuel Miranda's "gmorning" and "gnight" tweets are being turned into a book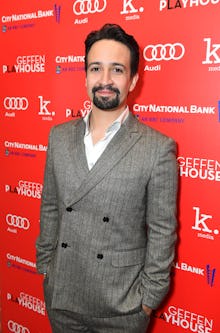 G'morning: Lin-Manuel Miranda, creator and star of Broadway phenomenon Hamilton, is coming out with a new book, called Gmorning, Gnight!, all based on his ritual of greeting his Twitter followers every dawn and dusk.
The book, which will be out in October, looks to be an illustrated collection of these tweets — a sort of page-a-day motivational text. Miranda's working on the book with illustrator, writer and fellow Twitter personality Jonny Sun, who's creating the book's artwork.
In case Miranda's twice-daily Twitter ritual is foreign to you, a quick primer: Most mornings and nights, Miranda posts little love notes for his followers, encouraging them to practice self-care or just give them a gentle, motivational kick in the pants.
Sometimes, these take the form of vlog-style videos, where Miranda films himself on the subway or walking around the streets of New York City, ad-libbing goofy songs about whatever's going on in his life.
If you're at your desk struggling to wake up as I am, this one will feel particularly apt.