Republicans scrap vote on abolishing ICE intended to troll Democrats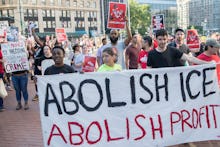 House Republicans have decided against holding a vote on a bill to abolish the Immigration and Customs Enforcement agency, Politico reported on Monday, backing down from an attempt to play gotcha with their Democratic colleagues.
Republicans were mulling whether to hold a vote on the bill to abolish ICE, which was sponsored by progressive Rep. Mark Pocan (D-Wis.). The potential move was an effort to get Democratic lawmakers on the record on a controversial policy that the GOP feels is an electoral loser.
However, fearing that Democrats would avoid their trap by all voting against the measure, or not voting at all, GOP leaders decided against holding a vote on the legislation, according to Politico. Instead, House Majority Leader Kevin McCarthy said that Republicans will vote on a bill supporting ICE.
"We will vote on Wednesday," McCarthy told reporters Monday, referring to the measure to support ICE.
"I gave Pocan an opportunity to vote on the bill," he said. "They don't want to vote for their own bill."
Abolishing ICE has become a rallying cry for progressives and has gained steam since the Trump administration's policy of separating children from their parents at the border came to light.
Polling shows abolishing ICE is not popular among the general electorate, with just 25% of voters saying that ICE should be scrapped, according to a Politico/Morning Consult poll released Wednesday.