GOP lawmaker who refused to vote for Trump tries to win re-election in Tuesday runoff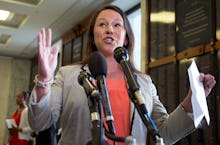 After the infamous Access Hollywood tape dropped in October 2016, Rep. Martha Roby (R-Ala.) said she had enough. Trump's actions she said, were too much to handle and thus she said she could not vote for him in November.
"Donald Trump's behavior makes him unacceptable as a candidate for president, and I won't vote for him," Roby said in a statement on Oct. 8, 2016.
Trump, of course, went on to win the election, with 65% of voters in her district casting their ballots for the bombastic businessman.
Now, Roby may pay for her decision to denounce Trump with her job, as she faces voters in a runoff in her suburban Montgomery district.
Roby was forced into the runoff on June 5, when she garnered just 39% of the vote against former Democrat-turned-Republican Bobby Bright. (In Alabama, candidates must receive a majority of the vote in order to win outright, or else a runoff will be triggered.)
Bright — who served in Congress as a Democrat for one term — has used Roby's decision not to vote for Trump against her in the campaign.
"Martha Roby, can we really trust her? Roby says she supports the president now, but Roby turned her back on President Trump when he needed her most," a narrator says in an ad that features video of Roby telling Trump to "step aside" so someone else could run for president.
"That's right, Martha Roby told Donald Trump to step aside, and refused to vote for him for president. Is that who we want to represent us in Congress?" the narrator continues.
However, both Trump and Vice President Mike Pence have come out in support of Roby's candidacy, which could help her survive the runoff election. Trump has painted Bright — who lost to Roby in the 2010 GOP wave — as a Democrat in disguise.
"Congresswoman Martha Roby of Alabama has been a consistent and reliable vote for our Make America Great Again Agenda. She is in a Republican Primary run-off against a recent Nancy Pelosi voting Democrat. I fully endorse Martha for Alabama 2nd Congressional District!" Trump tweeted in June after Roby was forced into the runoff.
The U.S. Chamber of Commerce's political arm also came out in support of Roby, running an attack ad against Bright.
"Bobby Bright once said he had no regrets about voting for Nancy Pelosi as speaker, guess that's why Bright voted for Pelosi's liberal agenda over 70% of the time, took $25,000 in campaign cash from Nancy Pelosi and even defended Obamacare," the Chamber of Commerce ad says.
Bright said he switched parties because the Democratic Party no longer fits his values.
"I tried to be a Democrat, and I didn't do the job as a Democrat that I wanted to do, mainly because my beliefs are conservative and that held me back," Bright told reporters when he announced his candidacy in February, according to AL.com.
"You have to look at where I came from when I chose to run as a Democrat. I was a nonpartisan mayor for 10 years, so I worked to make things happen and to be successful across party lines. I felt at the time I could go on to Washington as a Democrat and be very, very effective and we did — we were very effective to a great degree. But there's limited things you can do up there as a conservative controlled by a liberal party," he said.
Tuesday night's runoff will be a test about whether the Alabama electorate listens to Trump, or whether Roby's initial refusal to vote for Trump in 2016 is unforgivable.
Trump has endorsed candidates that went on to lose, including now-former Sen. Luther Strange in Roby's very state of Alabama. If Roby loses, it will be another data point that Trump's endorsement is not a panacea for Republicans, even in safe Republican territory.
Polls in Alabama close at 7 p.m. Central.