People of color are less likely to use sunscreen — and these skincare brands are looking to fix that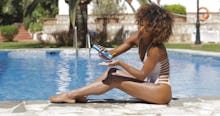 People of color are seven times less likely to use sunscreen. A survey by the Skin Cancer Foundation also found that 63% of African Americans have never used sunscreen products — and these facts are alarming.
Though skin cancer is much more common among white people, the survival rate for people of color is significantly lower. Black populations are especially likely to be diagnosed with melanoma, the most dangerous form of skin cancer, in later stages of the disease and have the lowest five-year survival rate — 69%, compared to a 94% survival rate in white populations.
"We sometimes think of skin cancer as a white person's disease, but it's not true."
People with darker skin tones tend to sunburn less, but they often don't get the message that sunblock is still necessary for full protection from the sun, Chinelo Chidozie, co-founder of skincare brand Bolden, said in a phone interview.
"Skin cancer can still happen without a sunburn," Seemal R. Desai, the president of Skin of Color Society, said over the phone. "We sometimes think of skin cancer as a white person's disease, but it's not true."
The problem also lies in the limited sunscreen options for people of color.
"It's important to have sunscreens for darker skin tones that don't leave a white residue that makes you look pasty or provide an uneven skin appearance," Desai said of many traditional mineral-based sunscreen products. "In that sense, not all sunscreens are created equal."
As the cosmetics industry becomes more inclusive, it seems the sunscreen industry is following suit. New brands are looking to fill the gap in products specifically aimed at people of color.
The rise in products marketed to people of color could help promote regular sunscreen use, Desai said, as aesthetic side effects like the white cast can often deter consistent use.
"We have not been a priority in the sun care market," Katonya Breaux, founder of Unsun Cosmetics, a skincare brand devoted to people of color, said in a phone interview. "But the sun doesn't discriminate — and a lot of people of color are starting to realize the importance of sunscreen."
Breaux created Unsun sunscreen after failing to find tinted products that matched her skin tone. She hopes the product will suit a wider range of complexions.
Sisters-in-law Chinelo Chidozie and Ndidi Obidoa were on vacation in Key West, Florida, when they realized that many readily available drugstore sunscreens gave them a white cast. "[They] were unwearable," Chidozie said. "As people of color, we're used to having to try so many products and finding solutions by mixing different things to find what we like."
To fill this gap, Chidozie and Obidoa formed Bolden, a skincare brand designed for people of color through its formulated SPF 30 brightening moisturizer. By forgoing the use of zinc oxide and titanium oxide, the minerals responsible for the pasty effect, the sunscreen dries without residue when applied.
Despite its name, Obidoa emphasized that brightening is not the same as "lightening," another common term in some skincare products aimed at people of color. "People tend to use the terms interchangeably — brightening, lightening, bleaching — but brightening ingredients tend to exfoliate, as opposed to ingredients that actually lighten the skin and inhibit melanin production," Obidoa said. "Our focus here is to improve the natural look of your skin."
For Shontay Lundy, creator of Black Girl Sunscreen, the lack of sunscreen use was reflective of a cultural "old-school" mentality, she said in a phone interview. "The word 'sunscreen' was never used in my house. If we were to put something on our skin, it was Vaseline, shea butter or coconut oil — but nothing that actually protected from UV rays," Lundy said. "I was reluctant to go outside because there weren't many options for women of color."
Lundy introduced Black Girl Sunscreen, an SPF-30 product that contains cocoa butter and avocado, in late 2017. Lundy is excited about the overwhelmingly positive reaction to the sunscreen. She hopes to bring awareness to the importance of regular sunscreen use for people of color and change the mentality of the past.
"We are shifting mindsets and continuing to educate," she said. "It's a new concept — and our community is speaking to us."