Money managers aren't just for people with money — here's how to decide if you need a finance expert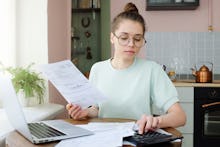 Millennials are underpaid, overworked and suffocated by student loan debt, as you may know from reading headlines or from personal experience. Thus the prospect of hiring a person to manage money can seem almost cruelly comical. What money is there to manage?
But another generalization about millennials is that we are afraid to take action with money after we get our hands on some: We aren't buying houses, and we aren't investing our money either. A survey by Levo League and SoFi released earlier in 2018 discovered more than half of millennial women have money that could be invested, but 56% said they aren't ready to do so because they're scared.
"[Millennial women] often have the resources to invest due to diligent savings, but can be held back by fear," Alison Norris, a certified financial planner at SoFi, said in an email interview. This terror and lack of confidence around money might just be a hallmark of the generation who came of age during the 2008 recession, but "a professional might empower them to gain the confidence that they can (and will!) be successful," she said.
Financial advisers, money managers or investment consultants can answer your not-so-dumb questions, help manage fears around money and ensure you're on track to reach big financial goals like buying a home or taking year off to travel. It's just about figuring out if you're ready to bring one on.
What exactly does a money manager do?
The experts we spoke with used a whole lot of metaphors to describe what financial advisers do. "I would characterize them as the financial quarterback of someone's life, their personal CFO," Joe Vietri, senior vice president at Charles Schwab who oversees over 300 Schwab branches and 1,200 financial consultants, said in a phone interview. "When folks have goals in life they're trying to achieve, the money is the ticket to get them there, and the financial adviser is the navigator."
"We're helping clients get their financial lives organized," Anthony Badillo, a certified financial planer at Gen Y Planning, said in a phone interview. "I think of it like this: You have a personal trainer for fitness. This is a personal trainer for finance. We get you in financial shape."
Basically, there are many different terms for the same sort of role: financial consultant, financial adviser, money manager, wealth-asset manager, investment consultant and so on. Before you go about hiring one, you have to figure out what you're looking for. Do you need help choosing stocks? Someone who will force you to set a budget? These days, so many personal-finance functions can be helped with an app. There's Stash, Acorns and Robinhood for investing; Mint and You Need a Budget for budgeting and so many more. Why hire a person at all?
Jason Kirsch, certified financial planner and founder of Grow, a financial-planning firm geared toward millennials, believes that humans are better than apps when it comes to a holistic approach to one's finances. "Financial planning is the least scientific thing that anyone in the financial industry really does," Kirsch said. "There's no formula. A financial planner is working with clients to really understand not only their financial situation but how their personal situation impacts their financial situation."
How can you find a money manager?
Our experts have advice that may surprise you: Date around! You don't have to commit to the first financial planner or first firm you talk to. "We encourage people to do your homework, ask questions, definitely check out other providers and compare. You'll feel what's right for you," said Vietri. "Find out more about the people that will be supporting you: What are the advisers' credentials? What's their background? What is their philosophy and their approach?"
"If a client can't be 100% truthful with their adviser, they get subpar service."
The best part of this search process is that many, if not most planners, are happy to grant a first meeting gratis. "Reach out to a bunch of advisers. If they're right for you, they'll offer free consultation," said Kirsch. "If you think there's a personal fit, schedule another meeting. The most important thing about hiring an adviser is trust. If a client can't be 100% truthful with their adviser, they get subpar service."
How much does a money manager cost?
Different firms operate with different payment structures. They may charge a percentage of the total assets being managed or set a monthly retainer fee or make commissions based on which types of accounts you open with them. In general, the more hands on their efforts, the more they charge.
"There are so many different models. Financial advisers charge a different rate based on time and complexity," Vietri said. "[There must be] transparency around compensation, given that there is a crisis of trust around financial services in general. Ask these questions directly: I want to know exactly what I'm going to be charged for, and why. What am I getting for what I'm paying?"
"There are a lot of people who call themselves financial planners, and you see this a lot at insurance companies in particular: They get commissions for selling their own products," said Badillo. "They have to disclose to a consumer how that happens; they have to say they're commission-based or fee-based. Look for fee-only." It's advice all three experts gave. Do you want your financial planner to have personal motives when touching your cash?
How do I know if I need a money manager?
It's frustrating, but there's not a rule of thumb for when to begin paying someone else to manage your money. "Everyone needs a plan, regardless of the plan and the approach. We preach the power of starting early," said Vietri. "When you cross that threshold, it is going to depend on your situation. I hate to say it's based on the money you have; it's more like the more complex your situation gets." For example, burgeoning interest in a life event like buying a home or having a child may be the milestones that encourage time spent with an expert.
Kirsch was willing to be a bit more specific. "I would say that anyone making six figures or above should be working with a financial professional," he said. "When someone has a lower income, it's difficult, unless you inherited money or have a large investment portfolio from other sources."
At the end of the day, you have to spend money to make money. "It can seem like a luxury. It's not a small amount of money, no, but I see people spending this on gym fees," Badillo said, comparing financial health to physical health. "In all honesty, I think everyone needs financial planning. It's egregious that [financial literacy] is not taught in high school or college. It should be a requirement. It affects every single person's life."