Republicans rebuke Trump on Putin summit, but does their criticism have any teeth?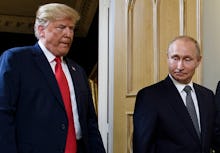 A number of prominent Republicans have rebuked President Donald Trump in the wake of his stunning, "disgraceful" meeting with Russian President Vladimir Putin.
Trump on Monday drew a firestorm of criticism after cozying up to Putin in their joint press conference following their one-on-one meeting in Helsinki — the final stop on the president's tumultuous trip to Europe, in which he cast longstanding U.S. allies as "foes."
"No prior president has ever abased himself more abjectly before a tyrant," Sen. John McCain (R-Ariz.) said in a statement Monday. "Not only did President Trump fail to speak the truth about an adversary, but speaking for America to the world, our president failed to defend all that makes us who we are — a republic of free people dedicated to the cause of liberty at home and abroad."
It remains unclear if members of the president's party will back up their statements with concrete action, as Republicans on Capitol Hill have largely been noncommittal so far when it comes to advocating for further punitive measures against Russia, attempting to rein in Trump or seeking to protect special counsel Robert Mueller.
"This is a bunch of crap and they know it," Rep. Bonnie Watson Coleman (D-N.J.) said by phone Tuesday. She added that many of the GOP statements condemning Trump "ring hollow," given lawmakers' failure to stand up to Trump in past controversies.
"Republicans ought to do their jobs," Watson Coleman said.
Trump took Putin's side over the U.S. intelligence community as his Russian counterpart denied interfering in the 2016 presidential election and appeared to lay some of the blame on the United States itself for the Kremlin attack on its election system. Trump also said Mueller's probe was a "disaster" that has kept the two Cold War adversaries "separated." The remarks, as well as the cordial tone Trump struck with Putin, received heavy scrutiny, with even lawmakers typically averse to criticizing Trump breaking with him in comments on the matter.
"We believe the European Union countries are our friends and the Russians are not," Senate Majority Leader Mitch McConnell (R-Ky.) told reporters Tuesday afternoon. "They've demonstrated that in all the obvious ways over the last few years: the annexation of Crimea, the invasion of eastern Ukraine, not to mention the indisputable evidence that they tried to impact the 2016 election."
McConnell declined to directly call Trump out for his performance, and appeared to waffle when asked if Congress would move on any legislation related to Russia in the wake of the summit.
"Well, I think there's a possibility," McConnell said Tuesday of possible legislation, citing only a proposed bill by Rep. Marco Rubio (R-Fla.) to deter Russia from any future meddling. "In the meantime, I think the Russians need to know there's a lot of us who fully understand what happened in 2016, and it really better not happen again in 2018."
Democrats on Tuesday said such statements are not enough, and called on the Republican-led Congress to take real action — including passing legislation to insulate Mueller from political attacks, safeguard future elections, punish Russia and establish greater oversight on Trump.
"John McCain's statement is the exception, not the rule," Rep. Eric Swalwell said in a phone interview Tuesday. "The Republicans have been, I would say, unwilling to actually do something about it. If you can't back those statements up with legislative action, it's just worthless."
Republicans appear to have avoided advocating for any such direct action, as the New York Times noted Tuesday, and many simply affirmed their confidence in U.S. intelligence and their skepticism toward Russia rather than criticize Trump directly. At least one lawmaker — Sen. Rand Paul (R-K.Y.) — defended Trump.
"I think their concern is the Trump base pushing back," Rep. Mike Quigley (D-Ill.) said Tuesday by phone. "They're caught in between the moderate independents that they don't want to lose and their credibility and the Trump base, and it's a tough little niche to find at times because they know no matter what the president says and does, his base will be with him."
While the Republican criticism of Trump has appeared to lack teeth so far, the Helsinki summit has brought significant bipartisan blowback — an uproar that appears to have taken Trump by surprise, according to CNN.
As he continued to face bipartisan outcry over the summit on Tuesday, he attempted to go into damage control, saying he has "full faith in America's intelligence agencies." He also said he misspoke when he implied he didn't think Russia interfered — but not before doubling-down on his criticism of U.S. allies and defense of his Putin summit.
"While I had a great meeting with NATO, raising vast amounts of money, I had an even better meeting with Vladimir Putin of Russia," Trump tweeted Tuesday morning. "Sadly, it's not being reported that way — the Fake News is going Crazy!"
July 17, 2018, 5:08 p.m. Eastern: This story has been updated.