Wakanda forever: Black Panther's sister, Shuri, is getting a standalone comic book series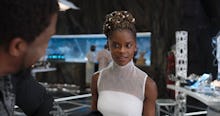 Big news from the royal family of Wakanda: Shuri, Black Panther's little sister, played by actress Letitia Wright in Marvel's Black Panther and Avengers: Infinity War, is getting a comic book series about her adventures.
Bustle reported Tuesday that the series, coming in October, will follow Shuri's journey as she is called to lead Wakanda while Black Panther, aka T'Challa, is lost in outer space. (Apparently his disappearance in the comics is unrelated to the events of the latest Avengers movie.)
The series will be written by Nigerian-American author and Hugo Award winner Nnedi Okorafor, who tweeted the news Tuesday. Okorafor, whose sci-fi novel Who Fears Death is being adapted into an HBO series, is no stranger to the Wakanda comics universe. As Bustle reported, Okorafor has worked on the Black Panther: Long Live the King and Wakanda Forever series.
As T'Challa's genius inventor sister, Shuri was the breakout star of the wildly successful Black Panther movie. Vox called Shuri "Marvel's most promising character in ages," and a fresh update to the smarmy-genius archetype embodied by Robert Downey Jr.'s Tony Stark. The Cut called Shuri "the best character in Black Panther, also maybe ever."
In an email to Bustle, Okorafor said she was excited to tell Shuri's story in the new series. Shuri is "an African young woman of genius level intelligence who is obsessed with technology and has traveled spiritually so far into the past that she's seen Wakanda before it was Wakanda," Okorafor said. "The ancestors call her Ancient Future. And she's super ambitious. What do I love about her? Alllll that and more ... She's a character in the Marvel Universe who really sings to me."
Does a spinoff comic book series mean that a spinoff movie could be in Shuri's future? It's probably too soon to tell, but the Marvel movie machine is nothing if not efficient.