Trump about-faces, says Russia interfered in the election but says it "could be other people" too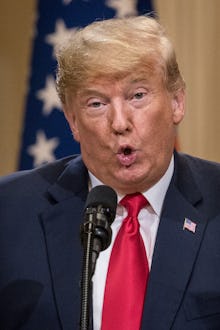 President Donald Trump reversed course from his Monday statement in Helsinki, saying that he accepts the findings of the U.S. intelligence community that Russia interfered in the 2016 presidential election, and that his administration will work to prevent Russia from meddling in the upcoming 2018 midterms.
Trump claimed during a meeting with Republicans that he misspoke on Monday and meant to say that he saw no reason why it wouldn't be Russia that interfered in the election — even though his comment at the news conference was preceded by highlighting Russian President Vladimir Putin's denials and attacking Democrats for not securing their servers.
"I said the word 'would' instead of 'wouldn't,'" Trump said, referring to the transcript of the news conference. "The sentence should have been, 'I don't see any reason why it wouldn't be'" Russia.
Yet Trump also suggested that "other people" could have meddled in the 2016 election, and was adamant that the Russian interference did not impact the outcome of the race.
"I have full faith in America's intelligence agencies," Trump said. "I have felt very strongly that while Russia's actions had no impact at all on the outcome of the election, let me be totally clear, and I've said this many times, I accept our intelligence community's conclusion that Russia's meddling in the 2016 election took place, could be other people also. There was no collusion at all."
Trump's backpedaling comes after widespread condemnation of his initial comments at a Monday news conference alongside Russian President Vladimir Putin, in which Trump cast doubt on the intelligence community's conclusions and refused to push back against Putin when given the opportunity.
Republicans, Democrats and diplomats of all stripes have said Trump's comments were disgraceful. Even some usually friendly Fox News hosts, including Fox & Friends' Brian Kilmeade, implored Trump to clarify his comments.
"It's correctable," Kilmeade said on Fox & Friends Tuesday morning. "It's still early. He can start by even tweeting something out today."
House and Senate Republicans on Capitol Hill were also critical of Trump's comments, but refused to condemn Trump himself.
Senate Majority Leader Mitch McConnell said on Tuesday that it's "indisputable" that Russia "tried to impact" the election. Rather than criticize Trump, however, McConnell tried to assuage European allies' fears that the U.S. is friendlier toward Russia than the E.U.
"Make no mistake about it, I would say to our friends in Europe, we understand the Russian threat and I think that is the widespread view here in the United States Senate among members of both parties," McConnell said at a news conference on Capitol Hill.