Can Kerri Harris be the first progressive to oust a sitting Democratic senator?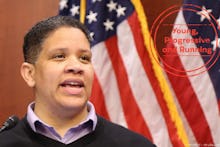 Delaware Senate hopeful Kerri Evelyn Harris has never let a challenge stand in her way.
Harris, a 38-year-old Air Force veteran, served during the Iraq and Afghanistan wars, and throughout her tours and afterward, she has had her share of trials and tribulations. During her years of service during the aughts, she was forced to keep her sexual orientation a secret under Don't Ask Don't Tell, despite being a proud gay black woman.
Harris said she was also forced to grapple with her own moral conflicts about the justifications for the Iraq War while dutifully serving as a loadmaster for combat flights. And she was later forced to overcome medical issues when complications from an anthrax vaccine administered to service members forced her into early retirement in 2008. She used a wheelchair and a walker before being able to walk on her own again again.
Now, Harris is taking on yet a new challenge — running as a progressive in Delaware's Democratic primary for U.S. Senate against incumbent Sen. Tom Carper.
"I didn't want it to be me," Harris told Mic about her decision to run in an interview. "I was hoping I would find someone that was ready to take that charge, and I would be able to help on the background on a campaign... It came to a point where I finally said, 'You know what? If nobody else is going to do it, I'm going to do it.' And we went from there."
Carper, 71, has served in Congress as a Democrat since 1982, and has been largely considered a shoe-in for re-election in the Democrat-leaning state. But Harris feels that Carper's record in Congress has not always reflected his state's strong Democratic base, where Hillary Clinton bested Donald Trump by double digits in 2016.
Harris grew up in and around the New York tri-state area before moving to California to be closer to her mother's family. In May 2001, just months before 9/11, she enlisted in the U.S. Air Force. She was eventually stationed in Delaware.
Harris is now a community organizer in the state, running a progressive campaign that supports abolishing U.S. Immigration and Customs Enforcement, creating a Medicare-for-All-style single-payer health care system and ending corporate influence in Washington. Harris said she believes that as her senator, Carper has been too quick to cater to Wall Street and big pharma's influence.
"He has a history — from the time that he was in the House of Representatives through being a governor and now the senator — for looking definitely out for the best interests of large corporations and Wall Street," Harris said while recounting Carper's votes against importing cheaper prescription drugs from Canada and rolling back Wall Street regulations.
Harris said she is particularly aggrieved by Carper's support for a recent bipartisan bill that rolls back some of the key provisions of the Dodd-Frank Wall Street reform law. The bill earned strong condemnation from progressives in the Senate for allowing some large financial institutions to avoid federal oversight and rolling back reporting requirements designed to prevent discrimination in mortgage lending.
"[The bill] gave way to re-instituting redlining, which communities of color are still recovering from," Harris said, expressing her discontent with Carper's support for the measure. "For our lower two counties, it made it so that people who purchase mobile homes are going to be burdened even further. It takes away their ability to sue landowners. It makes it so that they can only go through certain mortgage companies, which increases their mortgage payments."
Delaware has long been the home of major financial services companies in the United States The state's representatives in Congress have historically supported those companies' interests — sometimes to the detriment of consumers.
Former Vice President Joe Biden had a long history of supporting the interests of big lenders during his tenure in the Senate representing Delaware.
Support for big banks, however, is not the only blemish on Carper's record as far as progressives are concerned. In 2006, Carper was one of only four Democrats to vote in favor of confirming Judge Brett Kavanaugh — Trump's new nominee to replace Anthony Kennedy on the Supreme Court — to his seat on the D.C. Circuit Court of Appeals. All three of the other Democratic senators who voted for Kavanaugh at the time hailed from largely conservative states. Now, Carper said he will oppose any Trump's nominee to the Supreme Court until after the November election.
Harris said that she doesn't disagree with Carper's entire record, and lauds his votes in favor of LGBTQ rights and other progressive issues. However, she believes that his support for well-financed industry groups is a symptom of his time in Washington, and that the recent victory of her friend and fellow progressive Alexandria Ocasio-Cortez in New York shows that young progressive women can successfully take on the Democratic establishment.
"Our campaigns mirror each other so closely," Harris said of Ocasio-Cortez. "When she won, I was like, 'This is going to launch us, because now other people can believe that this can happen.'"
The Intercept was first to report that the organization Justice Democrats, which supported Ocasio-Cortez's campaign early on, will now be putting its members to work trying to help Harris become one of the next progressive women to oust a Democratic incumbent.
Harris also represents another new rising class of women entering the political fray in 2018 — former servicewomen. So far, the first national election since Trump's presidency has seen an unprecedented number of women from the armed forces stepping up to run for office, and Harris is proud to count herself among them.
"Still in society, women are often told to take a back seat," Harris said. "They're often told to wait your turn. ... When you put us in the military. We realize our own strength. We lead forces in times when there is chaos and we have to remain calm, cool and collected and let troops who have less experience know we've got this. And so we build this confidence. We were educated in our own power."
Harris' time in the military also shaped her perspective in a number of other ways. She recalled in frank terms how her experience in the Air Force during the Iraq War shaped her view of U.S. militarism abroad.
"There was that constant fear," Harris said. "Seeing people pulled off the aircraft screaming, 'I was told I wouldn't have to go,' and then their sergeant saying, 'You're infantry first' — having people literally try to kill themselves on your aircraft, or bringing back body after body, all of these things, and knowing it was all happening as a result of a lie. It really made you question who we put in charge. Who we allowed to put us in harm's way."
Despite her intense life experiences, Harris still faces an uphill battle trying to unseat a popular longtime incumbent senator. However, much like Ocasio-Cortez, she's seeing opportunity in the little moments.
When Mic first profiled Ocasio-Cortez in February, the congressional hopeful expressed optimism by recounting an experience on the New York City subway, where a constituent came up to her and told her he was supporting her campaign. Asked about her chances in the September primary, Harris spoke of a similar experience.
"I'm walking and I'm about to go into a store to buy a hamburger and somebody goes, 'Look, it's our next senator,'" Harris said. "I go to turn around to see who they're talking about and my head is about halfway, I realize they're talking about me. It's moments like that that are happening more and more and more."