Mic Dispatch launches on Facebook Watch with episode on FBI's targeting of black identity extremists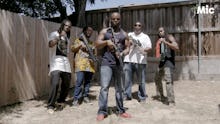 Launching today at 8 p.m. Eastern on Facebook Watch, the first episode of Mic Dispatch features an exclusive on-camera interview with Rakem Balogun, who is believed to be the first person targeted under the FBI's counterterrorism label "black identity extremists" (BIE). After nearly five months in federal custody, Balogun is now clear of charges. But why was he arrested, and what exactly is this program?
Balogun, a leader of Guerilla Mainframe, said his group is a community organization that started in 2008 with conversations and questions about poverty and the over-policing of those living in poverty. Balogun stated poignantly that he does not want to rely on white people if "sh*t hit the fan. We want to be able to rely on ourselves," by owning firearms and undergoing self-defense training.
A leaked 2017 FBI document defines BIE as "individuals who … desire physical or psychological separation … wholly or in part, through unlawful acts of force or violence, in response to perceived racism and injustice in American society." The FBI's BIE label remains a major concern for activists and lawmakers who worry that its broad definition could lead to mass surveillance and persecution of black dissenters.
With reporting led by Aaron Morrison, Mic will continue investigating an effort in Congress to get the BIE document rescinded and will delve into how local police departments have received the document — with a particular focus on areas where high-profile shootings of police officers have recently occurred.
"This is an important, underreported story that we started covering at the beginning, " Kerry Lauerman, executive news director at Mic, said. "We want to find out just how big of an impact the BIE designation is having, even at the most local levels."
To follow Mic's reporting, subscribe to the Mic Dispatch Collection page here.
Tune into Facebook Watch here for full episodes of Mic Dispatch, airing on Tuesday, July 17, and every Tuesday and Thursday thereafter.