Mic Daily: Trump's about-face on Russian interference in the election and more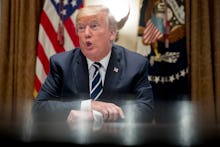 Welcome to Mic Daily: Mic's newsletter that cuts through the noise and lands in your inbox every weekday. We carefully curate each edition to send you a cross section of our most vital stories of the day. Want to receive this as a daily email in your inbox? Subscribe here.
Before we kick off today's Mic Daily, we have a special announcement: Join us in New York City! To celebrate the launch of Mic's new show, Mic Dispatch, we're hosting a live interview with New York gubernatorial candidate Cynthia Nixon and New York congressional candidate Alexandria Ocasio-Cortez on Wednesday at Mic's office. For an exclusive invitation to the event, be one of the first 25 people to sign up for alerts on new episodes here.
Mic Dispatch is going beyond the headlines to profile the underrepresented, the problem-solvers and the provocateurs. New episodes will air every Tuesday and Thursday at 8 p.m. Eastern on Facebook Watch.
All right, we're back to our regularly scheduled programming.
President Donald Trump reversed course from his Monday statement in Helsinki, saying that he accepts the findings of the U.S. intelligence community that Russia interfered in the 2016 presidential election, and that his administration will work to prevent Russia from meddling in the upcoming 2018 midterms.
On Monday, following Trump's summit with the Russian president, the New York Times tweeted out an animated video titled Trump and Putin: A Love Story. Trump and Putin are gay. Get it? Being gay is so funny. Ha, ha and ha!
House Republicans have decided against holding a vote on a bill to abolish the Immigration and Customs Enforcement agency, Politico reported on Monday, backing down from an attempt to play gotcha with their Democratic colleagues.
While delivering remarks Tuesday at the 16th annual Nelson Mandela Lecture in Johannesburg, former President Barack Obama appeared to endorse the idea of creating a universal basic income, the policy where the government grants citizens a minimum annual income to live on.
In this week's Transplaining advice column, Mic correspondent Serena Daniari helps a trans man navigate the following question:
"I hope to be a dad one day, but I have a lot of concerns about raising a kid as a transgender guy. I feel like it'd be wrong to hide that. When should I tell my kids that I'm trans? And how do I tell them?"
Want Transplaining as a weekly email alert in your inbox? Subscribe here.