Hype Daily: A 'Rugrats' reboot, a Robin Williams doc and more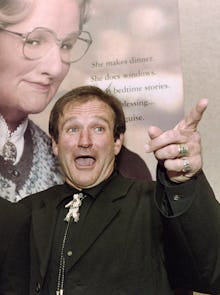 Welcome to Hype Daily, Mic's morning entertainment roundup. Here's everything you need to catch up on in the entertainment world and what to look forward to today. Want to receive this as a daily email in your inbox? Subscribe here.
Good morning from Hype reporter Anna Swartz.
Brace yourselves, '90s kids, a Rugrats reboot is in the works
Everything old is new again, or something. The latest '90s property to get the reboot treatment is Rugrats, which ran from 1991 to 2004. Nickelodeon and Paramount announced in a statement that the animated series, which follows the adventures of Tommy Pickles and his fellow baby pals, will return for a 26-episode season, CBS reported Tuesday.
Arlene Klasky, Gábor Csupó and Paul Germain, who created the original series, will return to executive produce. But that's not all — there's a live-action/CGI Rugrats movie planned for a 2020 release. I truly cannot imagine what that will look like, but I guess we'll find out!
The trailer is out for Boy Erased
On Tuesday, the first trailer for Boy Erased, a new film starring Manchester by the Sea's Lucas Hedges, was released. Based on a memoir by the same name, the movie shows Hedges playing a young man from a religious family who is outed to his parents, played by Russell Crowe and Nicole Kidman, and subsequently sent to a "conversion therapy" program. Singer Troye Sivan also stars in the film. Watch the trailer, but only if you're prepared for feelings.
An action-figure Janelle Monáe is everything you didn't know you needed
In an Instagram post Tuesday, singer and actor Janelle Monáe gave us a new look at her character in the upcoming Robert Zemeckis film, Welcome to Marwen. The film is inspired by the real-life story of artist Mark Hogancamp, played in the upcoming film by Steve Carell. Hogancamp was brutally assaulted in 2000, leaving him with few memories of his life before the attack.
To cope, he created detailed, miniature WWII-era dioramas, reinventing himself as a character inside of them. Monáe will play Hogancamp's physical therapist and one of the characters inside his miniature world — apparently "GI Julie," according to Monáe's Instagram. Watch a trailer here.
San Francisco wants you to stop gawking at the house from Full House
The city of San Francisco is not thrilled about all of the tour buses stopping by the house from Full House, and now it's doing something about it. The San Francisco Municipal Transportation Agency voted to ban all "commercial vehicles" from Broderick Street, where the house used for exterior shots in the sitcom is located, the Associated Press reported Tuesday. Apparently, locals had been complaining about traffic on the street. Guess eager fans will just have to walk over there now...
Put this on your radar: Robin Williams: Come Inside My Mind
The new documentary Robin Williams: Come Inside My Mind, from Marina Zenovich, premiered on HBO Tuesday night. It's been four years since the much-beloved comedian died, and the new documentary looks at his life and career from his early beginnings up until his 2014 death from suicide. It also features tons of archival footage and interviews with people who knew him. Watch a trailer here.