Today in Trump's America: Trump walks back the walk back of his terrible Putin press conference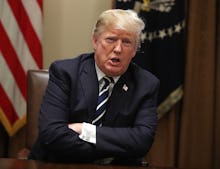 Welcome to Mic's daily read on Donald Trump's America. Want to receive this as a daily email in your inbox? Subscribe here.
Good morning from Emily Singer at Mic.
Here's what's happening in Trump's America:
• Trump has another light schedule Wednesday. The only public event listed is an 11:30 a.m. Cabinet meeting.
About last night: Trump again throws NATO into chaos, questioning its core mutual defense agreement
Trump once again stuck his finger in the eyes of NATO allies, questioning the military alliance's collective defense agreement that states "an attack against one Ally is considered as an attack against all Allies."
Trump made the comments to Fox News' Tucker Carlson, who interviewed Trump after his widely panned summit with Russian President Vladimir Putin.
"Let's say Montenegro, which joined last year, is attacked, why should my son go to Montenegro to defend it from attack?" Carlson asked Trump.
"I understand what you're saying, I've asked the same question," Trump said. "You know, Montenegro is a tiny country with very strong people. … And congratulations you're in World War III, but that's the way it's set up," Trump said.
Article 5, which outlines the mutual defense agreement, is an essential part of the NATO alliance, which was formed in 1949 as a response to aggression by the Soviet Union. The only time Article 5 has been invoked was after 9/11, when NATO countries came to the United States' aid.
It's not the first time Trump has questioned Article 5 of the NATO alliance. Incredibly, Trump questioned the mutual defense agreement in May 2017 in front of a 9/11 memorial at NATO headquarters.
If Trump ever refused to support Article 5, it would be seen as a victory for Putin, who has long sought to destabilize NATO.
Today in Trump's America: Trump walks back the walk-back of his terrible Putin press conference performance
That was fast.
Trump has already reverted to defending and touting his widely panned press conference with Putin in Helsinki, tweeting Wednesday morning that "many people at the higher ends of intelligence loved" his performance and that his chummy relationship with Putin "truly bothered many haters who wanted to see a boxing match."
"Big results will come!" Trump tweeted of his summit with Putin.
His comments come less than 24 hours after Trump sat in the White House and read from a prepared script that said he misspoke in Helsinki and accepts the intelligence community's assessment that Russia interfered in the election. He said his administration will work to prevent future Russian meddling.
The statement was a response to the loud bipartisan outcry over his performance in Helsinki. There Trump accepted Putin's hacking denials and refused to tell Putin to stop hacking in the future.
But even Trump's prepared statement was weak. He ad-libbed that the hacking could have been "other people" and crossed out a line that said he would bring "anyone involved in that meddling to justice."
Trump's reversal ensures this bad news cycle for the White House will continue.
In fact, Republicans called Secretary of State Mike Pompeo to a public hearing before the Senate Foreign Relations Committee next Wednesday to get him to explain what exactly happened in the Putin and North Korean summits, Politico reported.
Capitol Hill happenings: GOP lawmaker who refused to vote for Trump wins primary runoff
Rep. Martha Roby (R-Ala.) fended off a GOP primary challenger in a runoff Tuesday night.
Roby's future in Congress was imperiled by her decision in October 2016 to publicly condemn Trump after the Access Hollywood tape, saying she could not vote for him after witnessing his conduct.
That allowed Bobby Bright, a former Democratic member of Congress who switched parties to primary Roby, to force Roby into a runoff.
But after the June 5 primary — in which Roby did not receive a majority of the vote, thus triggering a runoff — Trump came to Roby's aid. He endorsed her and called out Bright as a Democrat in disguise who supports House Minority Leader Nancy Pelosi.
That ended up being a killer for Bright, who lost badly to Roby in Tuesday's runoff.
Trump congratulated Roby on her win in a Wednesday morning tweet.
"Congratulations to Martha Roby of The Great State of Alabama on her big GOP Primary win for Congress. My endorsement came appropriately late, but when it came the 'flood gates' opened and you had the kind of landslide victory that you deserve," Trump tweeted. "Enjoy!"
And the rest…
Comey urges Americans to vote Democrat: Former FBI Director James Comey — a lifelong Republican — has changed sides. In a tweet Tuesday, Comey urged Americans to vote for Democrats in the 2018 midterm elections. "This Republican Congress has proven incapable of fulfilling the Founders' design that 'Ambition must ... counteract ambition,'" Comey tweeted. "All who believe in this country's values must vote for Democrats this fall. Policy differences don't matter right now. History has its eyes on us."
Obama returns to warn against "strongman politics": Former President Barack Obama gave a speech Tuesday in Johannesburg, warning against "strongman politics" in the wake of Trump's news conference with Putin. "I am not being alarmist. I'm simply stating the facts," Obama said. "Look around — strongman politics are ascendant, suddenly, whereby elections and some pretense of democracy are maintained, the form of it, where those in powers seek to undermine every institution or norm that gives democracy meaning.