An injectable estrogen shortage reminds trans women that our fight is far from over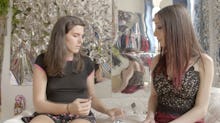 I sat on Emira Hajj's bed in her glitzy, decked-out apartment in Bushwick, a neighborhood in Brooklyn, New York, for an on-camera interview for Mic Dispatch. We began to engage in effortless banter about our mutual issues as two young transgender women living in New York City, like navigating our interactions with men and being misgendered in public. The conversation quickly shifted to the ongoing injectable estrogen shortage, which I first learned about after reading Hajj's eye-opening article in Conde Nast's LGBTQ publication, them.
The shortage of estradiol valerate, the generic version of the estrogen drug, has been wreaking havoc on the lives of trans-feminine individuals off and on since 2014 — and there's no way to know when the shortage will end. As my conversation with Hajj continued, I immediately sensed the frustration in her voice. After all, she has been grappling with the pharmaceutical nightmare since she began her medical transition nearly three years ago.
"The estrogen shortage has affected my day-to-day life pretty immensely," Hajj said. "First off, there's the chemical aspect of not having a steady supply of the hormones and the implications that has on your body. Then there's a physical aspect of feeling stagnant in your transition, which can really increase people's dysphoria."
Gender dysphoria, which refers to persistent feelings of distress when one's gender identity is not aligned with the sex they were assigned at birth, can be debilitating for many trans people. Having access to estrogen, an integral component of hormone replacement therapy for trans women, can be a life-saving way to combat dysphoria. It helps trans women develop softer skin, breasts and curvier bodies; it also boosts our moods.
"Hormone treatments play a vital role for most trans people in being able to live in a way that they feel is authentic," trans psychotherapist Laura Jacobs said in an interview. "These medications really become part of who we are, just as much as they help shape our bodies. To not have access to them often feels like we don't have access to that identity."
In addition to coming to terms with an unsteady supply of injectable estrogen, trans women have also been largely left in the dark on why the shortage exists and when it will end. As Hajj wrote in them, "The FDA's website still lists the drug as in short supply, without explanation or projected availability."
In a statement to Mic, the FDA said manufacturers are responsible for making and distributing products like injectable estrogen.
"The FDA will do everything within our authority to work with companies on regulatory actions needed to ensure safe products continue to be available for patients," the FDA added.
Leading pharmaceutical company Perrigo, which manufactures generic estrogen, confirmed the product shortage in an email to Mic.
"We are out of market due to a supply constraint from a key supplier," the company said. "Our goal is to have the product back on the market later this year."
While Perrigo attempts to remedy its supply issue, trans women are being forced to seek solutions that exist outside of traditional medical channels.
I went to Callen-Lorde Community Health Center, a major LGBTQ health clinic in New York City, to learn more about the shortage's impact on the center's own trans patients.
"We're hearing a lot of patients doing everything from rationing to sharing with friends to buying these medications out on the street," Callen-Lorde's chief nursing officer Anthony Fortenberry said. "As you can imagine, there are many reasons why that can be very dangerous."
I've turned to black market treatments when unable to access injectable estrogen in the past. But Hajj revealed another way trans women are trying to navigate a medical system that doesn't treat us as a priority.
"Personally, I've had to ask my friends," she said. "I just make a Facebook post or Instagram post, like, 'Hey, can anybody spare like 1 milligram of estradiol? I'll pay you back.' It makes me feel like we have each others' backs."
Speaking with Hajj reminded me that for those of us who belong to marginalized communities, it's often the bonds we forge with others who share our identity that pull us through challenges.
"You obviously have to go through the motions of living in a world that doesn't want you, first and foremost, and then operating within a medical system that treats you like a medical anomaly," Hajj said. "We need to place more emphasis on taking care of each other and giving each other the resources that may lie outside of this broken system."
An encouraging reminder of the power and promise of trans sisterhood.
Check out episode two of Mic Dispatch — only on Facebook Watch.
To catch future episodes of Mic Dispatch, follow Mic Dispatch on Facebook Watch. For more stories about the show, visit the Mic Dispatch collections page.
To learn more about trans issues, check out my weekly column on gender identity, Transplaining.