House Democrats say GOP blocked them from interviewing alleged Russian agent in probe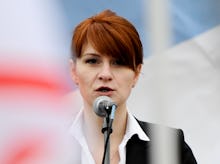 Democrats on the House Permanent Select Committee on Intelligence are accusing their Republican counterparts of having blocked them from interviewing alleged Russian spy Maria Butina, who was arrested Sunday and charged over apparent attempts to infiltrate American political organizations to advance Moscow's interests.
"More likely to come on this," Rep. Adam Schiff (D-Calif.), the top Democrat on the panel, tweeted Monday. "No wonder GOP members of HPSCI refused our request to bring her and others in."
Republicans on the panel shut down the committee's Russia probe in March, claiming it found "no evidence of collusion, coordination or conspiracy between the Trump campaign and the Russians." Now, Democrats are saying the charges against Butina show Republicans ended the investigation "prematurely" — and that the strange case of the 29-year-old spy was just one of many loose ends left unresolved when the inquiry ended.
"She's really just the tip of the iceberg of witnesses we wanted to hear from who are relevant," Rep. Eric Swalwell (D-Calif.), a Democratic member of the committee, said in a phone interview Tuesday. "There was a lot more to learn, but the Republicans prematurely and irresponsibly ended the investigation."
Butina was arrested Sunday for seeking to "exploit personal connections with U.S. persons having an influence in American politics" and attempting to "infiltrate organizations active in U.S. politics in an effort to advance the interests of the Russian Federation without prior notification to the attorney general." Butina is accused of trying to set up secret communications between Russia and the Republican Party via the National Rifle Association.
The Department of Justice announced her arrest Monday, hours after President Donald Trump cozied up to Russian President Vladimir Putin in a summit that has received a torrent of bipartisan backlash.
Swalwell said Butina's name "came up a lot" during the course of the committee's investigation, but Republicans "did not want to hear from [her]."
"She's not the only one," Swalwell added.
Rep. Devin Nunes (R-Calif.), chairman of the House committee and a close ally of the president, did not respond to Mic's request for comment. However, CBS News also reported that Republicans on the panel blocked Democrats from interviewing Butina and those connected to her.
The House Intelligence Committee had been conducting one of three Capitol Hill probes into Russia's meddling in the 2016 presidential election, but it was immediately hobbled by partisanship. Republicans ended the investigation in March, asserting that while Russia did interfere in the election, it did not do so with a "clear preference" for Trump, as the U.S. intelligence community had unanimously concluded.
The Senate Intelligence Committee — which interviewed Butina "several months ago," her attorney said in court Tuesday — released a report on July 3 backing up the intelligence community's assessment that Russia sought to help Trump and hurt Hillary Clinton. Putin himself admitted Monday at a press conference that he wanted Trump to win.
"The fact is, [Republicans] tanked the investigation," Rep. Mike Quigley (D-Ill.) said in a phone interview Tuesday. "They refused to issue subpoenas on people and critical documents. [Butina] is one more reason we never should have shut down this investigation."
Trump and his allies have increasingly called for the FBI's Russia probe, which is being led by special counsel Robert Mueller, to end. Butina's arrest and the accusations against her, however, come on the heels of the indictment of a dozen Russian intelligence officers accused of participating in the election interference — and suggest investigators have much more they could still reveal.
The charges against Butina were not brought by the special counsel, but by the DOJ — possibly, former federal prosecutor Patrick Cotter said in an interview, because the allegations against her are "not squarely within Mueller's jurisdiction."
"She is accused of being an unregistered foreign agent and with trying to cozy up with Republicans and NRA types to covertly advance Russian government goals in a general sense, but I don't think there is anything in the indictment about efforts to affect the election per se," Cotter said in an email.
Prosecutors allege Butina was in regular contact with Kremlin intelligence and offered sex in an attempt to gain influence in an organization as part of an effort to "carry out a covert influence campaign" on behalf of the Russian government.
The Russian gun rights activist is now the latest person to be charged with failing to register as a foreign agent related to Russia's attempts to influence U.S. politics; former Trump campaign chairman Paul Manafort is also facing Foreign Agents Registration Act charges. =
Such charges have been rare in the past, Cotter said, but that appears to be changing.
"With Manafort and Butina, the message seems to be that FARA is a law that should be taken seriously, especially by those acting on behalf of Russia or its puppet states," he added.
Manafort is currently in jail pending trial.
Butina was raided by the FBI in April and reportedly appeared before the Senate Intelligence Committee in the spring, according to CNN. She could face up to five years in prison and a $250,000 fine if convicted.
Her attorney has denied allegations that she's a Kremlin intelligence agent.
Both Quigley and Swalwell said that while Democrats have continued to seek answers about Russia's election interference following the end of the House Intelligence Committee probe, doing so has been challenging without Republican support.
"We're trying to continue this with interviews on our own," Quigley said. "But it's very difficult."