Google was hit with a record-setting $5 billion fine. Here's how your Android phone might change.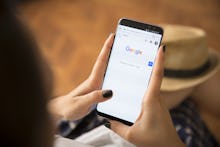 Google is being fined $5.04 billion by the European Commission for anti-competitive practices.
Margrethe Vestager, the European Union commissioner of competition policy, said that apps by other companies don't get an equal chance at competing against Google's apps.
"Google has used Android as a vehicle to cement the dominance of its search engine," Vestager said in a statement. "They have denied European consumers the benefits of effective competition in the important mobile sphere. This is illegal under EU antitrust rules."
The search engine is the latest company to be affected by stricter rules over data and privacy in Europe. In May, the U.K. introduced the General Data Protection Regulation: sweeping changes that required all companies to be more transparent about stored customer data. In early July, the U.K fined Facebook for Cambridge Analytica to the tune of $664,000 — the maximum amount allowed. Now, the EU is joining in by calling out Google for misusing its dominance in the smartphone market. Their $5.04 billion punishment is record-setting.
In many ways, Android is a way for Google to get a large number of its products in the hands of new phone owners. Users of Google phones (or even Android-equipped Samsung or LG phones, for example) have easy access to Google search, Chrome, Maps and YouTube — all installed from the start.
A de-Googled Android phone would mean more third-party apps instead
In the past, tech companies have responded to claims of limiting competition by giving users a choice of preferred apps the moment they turn on a device for the first time. When you first boot up the phone, Google could provide a list of options for apps that let you carry out popular tasks — apps by Google as well as apps by competitors. The experience would take extra steps to complete, but it could lead to Android owners using the apps they want and not the apps pushed on them.
Android devices come pre-installed with no shortage of Google apps. The latest EU ruling could force Google to include apps from its competitors in the same way. For example, along with YouTube, Google may be forced to include Instagram's IGTV or Vimeo. Along with Chrome, Google may include options for Firefox and Opera.
Before changing Android, Google will appeal the EU ruling
The EU's $5 billion fine against Google is only a tiny portion of the company's war chest. In just the first three months of 2018, Google made $31.2 billion in revenue ($7 billion in income).
The relatively small fine won't stop Google from appealing the EU. The company published a blog post Wednesday, reminding the EU how much choice Android offers its users. Sundar Pichai, CEO of Google, said in the post that the ruling "misses just how much choice Android provides to thousands of phone makers and mobile network operators who build and sell Android devices; to millions of app developers around the world who have built their businesses with Android; and billions of consumers who can now afford and use cutting-edge Android smartphones."
Google's Europe Twitter account reiterated the tech giant's decision to appeal.
Antitrust claims out of the EU are nothing new. The EU fined Intel in 2009 for anti-competition practices against another chipmaker. Intel's appeal to counter the claims was successful.
In 2009, Microsoft added a choice screen to pick default browsers at the request of the EU. According to the Commission, Microsoft unfairly bundled Internet Explorer with its operating system and no other web browsers. Arguably, the change worked (you probably aren't reading this on Internet Explorer), but other tech companies continue to limit competition in other ways.
Apple's iOS, for example, is filled with Apple apps just like Android. The company takes things a step further by not allowing users to choose default apps for certain actions. For example, Android users can choose which app opens a URL. On iPhone, users have no choice: All links automatically take you into the Safari app.
Initially, the EU gave Google 90 days to comply with their ruling. Though if the company's appeal is successful, your Android device won't change at all.