Trump is deploying his post-Charlottesville playbook amid Putin press conference backlash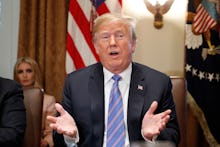 In the aftermath of his highly controversial press conference with Russian President Vladimir Putin, it's shaping up to be the post-Charlottesville debacle all over again for President Donald Trump and his administration.
One day after his half-hearted attempt to swell the growing outcry over his conduct at Monday's summit with Putin, Trump once again denied something that the United States intelligence community has unequivocally stated: Russia is still trying to interfere in our elections.
"No," Trump told reporters at a Cabinet meeting Wednesday afternoon in response to a question regarding whether Russia was still targeting U.S. elections. This flies in the face of comments Director of National Intelligence Dan Coats has made on multiple occasions, and once again puts Trump in the camp of believing Putin over U.S. intelligence agencies.
Such conduct from Trump mirrors his response to the white supremacist march in Charlottesville, Virginia, and its violent aftermath in August, in which a counterprotester was murdered by a white supremacist who rammed into a crowd with his car. Initially, after that violent weekend, Trump said there was hatred displayed "on many sides" of the protests, suggesting that racist and hateful white supremacists and peaceful counterprotesters were on the same plane.
After a massive outcry over his comments, Trump came out to denounce the white nationalists at the protest. But he couldn't hold onto that position for long: Just a day later he once again denounced what he called the "alt-left" counter protesters.
"What about the 'alt-left' that came charging at, as you say, the 'alt-right'?" Trump said. "Let me ask you this: What about the fact they came charging — that they came charging with clubs in their hands, swinging clubs? Do they have any problem? I think they do."
Just like his Charlottesville response, Trump's reaction of distrusting his own intelligence community puts Republicans in a difficult position of having to decide whether defend or rebuke Trump's comments. Already, some Republican pundits are condemning Trump.
"A BIG discrepancy between President Trump's statement and DNI Coates' warning," Sen. Lindsey Graham (R-S.C.) said. "It's imperative we get to the bottom of what is going on so we can be prepared to protect ourselves in advance of the 2018 elections. My personal view: The Russians are at again."
"This is Trump once again trashing America's Intel community," MSNBC's Joe Scarborough tweeted. "This is Trump once again playing Putin's weak, frightened dupe. This is Trump once again lying through his teeth for the KGB spy who owns him."
And Michael McFaul, a former U.S. ambassador to Russia, called Trump's latest comments "a joke."
"This is becoming a joke," McFaul said Wednesday afternoon on MSNBC. "It is becoming absurd. It makes our president looks weak. It makes our country look weak."