Hype Daily: A giant Jeff Goldblum, Bruce on Broadway and more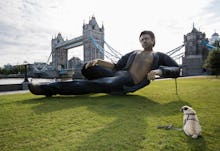 Welcome to Hype Daily, Mic's morning entertainment roundup. Here's everything you need to catch up on in the entertainment world and what to look forward to today. Want to receive this as a daily email in your inbox? Subscribe here.
Good morning from Hype reporter Anna Swartz.
A massive Jeff Goldblum statue showed up in London yesterday
Wow, life truly does find a way. A giant, reclining, bare-chested statue of Jeff Goldblum (as his iconic Jurassic Park character Dr. Ian Malcolm) was unveiled in London on Wednesday, right on the banks of the River Thames.
USA Today reported that the 25-foot statue was put up by the U.K.'s Now TV, to honor the 25th anniversary of the first Jurassic Park movie. The statue is only there temporarily though, so don't book your plan tickets to London just yet.
Alice Wetterlund says T.J. Miller was a "bully" on the set of Silicon Valley
Actress Alice Wetterlund, who played Carla on HBO's Silicon Valley, opened up on Twitter on Wednesday about her experience on the show, specifically what it was like working with co-star T.J. Miller. "TJ Miller was a bully and petulant brat and pretty much everyone who had any power on that (almost all-male) set, including the male cast members, enabled him and were complicit in his unprofessionalism," she said in one tweet. "They can fuck off forever."
In another, she said, "I'm pretty open about this, and I don't know if other women on the show had a different experience than me, but it was kind of a nightmare."
Miller left the show in 2017 after four seasons. In December, a former girlfriend of Miller's came forward with allegations that Miller had sexually assaulted and physically abused her during their relationship. And in April, Miller was arrested in New York City for allegedly calling in a fake bomb threat on an Amtrak train.
Bruce on Broadway is coming to Netflix
Singer and icon Bruce Springsteen, aka the Boss, is taking his one-man Broadway show to the masses. Netflix said on Wednesday that it will release Springsteen's upcoming Dec. 15 performance, his final show, on the streaming service, the Associated Press reported. The show is apparently a lot of singing and old stories about growing up in New Jersey, which sounds honestly amazing. No wonder tickets have been so hard to get.
Jay-Z wrote an op-ed for the Philadelphia Inquirer
After the news that Philadelphia Mayor Jim Kenney planned to kick the Made in America music festival out of its annual spot on the city's Ben Franklin Parkway after this year's festival, festival founder and mogul Jay-Z spoke out about the mayor's decision. In an op-ed published in the Philadelphia Inquirer on Wednesday, Jay-Z criticized the mayor's decision.
"We are disappointed that the mayor of the city of Philadelphia would evict us from the heart of the city, through a media outlet, without a sit-down meeting, notice, dialogue or proper communication," he wrote. "Is this an accurate representation of how he and his administration treat partners that economically benefit his city? Do they regularly reject minority-owned businesses that want to continue to thrive and grow alongside his city's people?"
Put this on your radar: Mamma Mia! Here We Go Again
If you don't already know about Mamma Mia! Here We Go Again, the appropriately named sequel to the 2008 film Mamma Mia!, then you probably shouldn't go see it when it comes out on Friday. But for the crowd that have been eagerly anticipating this film, there are only a few more hours until you can watch Amanda Seyfried and Cher romp around on a Greek island singing Abba songs!
Vulture called the film "a mom movie, in every way imaginable" and the Chicago Tribune described it as "escapist fluff of the highest order — joyful, filled with beloved pop songs and incredibly bizarre." Sounds perfect.