Today in Trump's America: Trump has had proof of Putin-led Russian hacking for more than a year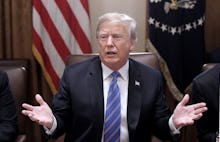 Welcome to Mic's daily read on Donald Trump's America. Want to receive this as a daily email in your inbox? Subscribe here.
Good morning from Emily Singer at Mic.
Here's what's happening in Trump's America:
• Trump's day begins at 11:30 a.m., when he'll receive his daily intelligence briefing.
About last night: Trump has had proof of Putin-led Russian election hacking for more than a year and a half
The New York Times published a bombshell report Wednesday night saying that two weeks before he was inaugurated, Trump was shown highly classified intelligence that laid out Russia's hacking and interference in the 2016 election, including evidence that Russian President Vladimir Putin was the mastermind behind the effort.
The fact that this news dropped just days after Trump yet again denied Russian interference in the election, and after Trump said he believed Putin's denials over the classified intelligence the U.S. government showed him more than a year ago, doesn't seem like a coincidence.
Trump has been pilloried by the left and the right for his refusal to stand up to Putin when given the chance, and for standing with the autocratic leader of a foreign adversary rather than his own government. His behavior had already raised questions about whether the Russians truly do have something on him. The New York Times' report showing that Trump had seen this classified information and still refused to condemn Russia or stand up to Putin won't do anything to assuage those suspicions.
Trump has since walked back his acceptance of Putin's denials and said he believes Russia interfered in the 2016 election. But he also said the hacking "could be other people," too.
In an interview with CBS News that aired Wednesday night, Trump said he believes that Russia interfered in the election, and yet he still declined to say that Putin lied about not interfering.
"So if you believe U.S. intelligence agencies, is Putin lying to you?" Jeff Glor asked Trump in the interview.
"I don't want to get into whether or not he's lying," Trump said. "I can only say that I do have confidence in our intelligence agencies as currently constituted. I think that [Director of National Intelligence] Dan Coats is excellent. I think that [CIA Director] Gina [Haspel] is excellent. I think we have excellent people in the agencies, and when they tell me something, it means a lot."
Today in Trump's America: Republicans will face more questions regarding Trump's coziness with Putin
White House press secretary Sarah Huckabee Sanders set off what's sure to be yet another uncomfortable day for Republican lawmakers on Capitol Hill, after she said Trump was considering sending two American citizens, including a former U.S. ambassador, to Russia for questioning for alleged "crimes."
The two Americans — Bill Browder and former U.S. Ambassador to Russia Michael McFaul — were key to lobbying efforts to get sanctions placed on Russian officials for Russia's killing of a Russian tax accountant named Sergei Magnitsky. Those human rights sanctions on Russian officials — known as the Magnitsky Act — have deeply angered Putin. In fact, the infamous Trump Tower meeting was ultimately about those sanctions.
And the fact that Trump is even considering sending Browder and McFaul to Russia for questioning is being hailed as unconscionable by many in both parties. The news broke after New York Times' reporter Maggie Haberman ask Sanders about Russia's interest in the men at the White House press briefing Wednesday.
"Russian authorities yesterday named several Americans who they want to question, who they claim were involved in Bill Browder's 'crimes,' in their terms, including a former ambassador to Russia, Michael McFaul," Haberman said. "Does President Trump support that idea? Is he open to having U.S. officials questioned by Russia?"
"The president is going to meet with his team, and we'll let you know when we have an announcement on that," Sanders said.
Haberman continued to press Sanders on the issue.
"Is that a topic that came up in their conversation? Did President Putin raise this with President Trump?" Haberman asked.
Sanders confirmed it was a topic Trump discussed with Putin in Helsinki.
"There was some conversation about it, but there wasn't a commitment made on behalf of the United States," Sanders said. "And the president will work with his team, and we'll let you know if there's an announcement on that front."
The fact that Trump didn't unequivocally rule out sending two Americans to Russia for questioning is shocking. Republican lawmakers on Capitol Hill are sure to be asked about it, furthering the negative Russia press for the GOP.
"The president won't rule out turning an American public servant over to Vladimir Putin, but tomorrow I hope the Senate will," Senate Minority Leader Chuck Schumer tweeted Wednesday night.
Capitol Hill happenings: Republicans block funding to protect future elections from cyberattacks
If all of that wasn't enough Russia news for you, you're in luck, there's more!
House Republicans are blocking Democratic efforts to restore funding to protect election systems in future elections, the Capitol Hill publication Roll Call reported.
Republicans are trying to zero out spending on election system protections in an upcoming funding bill, according to Roll Call.
"Today a dozen Democrats took to the House floor and asked @HouseGOP to allow consideration of @RepMikeQuigley's amendment to restore funds to prevent Russian interference in our elections," Democrats on the House Rules Committee tweeted. "But Republicans objected. We can't even have a vote. Unbelievable!"
And the rest…
Republican lawmaker was angry he couldn't call women "sluts" anymore: Yes, you read that right. Rep. Jason Lewis (R-Minn.), already one of the most vulnerable Republicans up for re-election in November, once lamented the fact that it is not politically correct to call women sluts, according to audio of radio shows Lewis once hosted that was unearthed by CNN.
Lewis made the comments in 2012, when Sandra Fluke was fighting for religious institutions to offer insurance coverage for birth control, which was condemned by radio personality Rush Limbaugh.
"Well, the thing is, can we call anybody a slut? This is what begs the question. Take this woman out of it, take Rush out of it for a moment," Lewis said on a radio show in 2012, according to the audio CNN unearthed. "Does a woman now have the right to behave — and I know there's a double standard between the way men chase women and running and running around — you know, I'm not going to get there, but you know what I'm talking about. But it used to be that women were held to a little bit of a higher standard. We required modesty from women. Now, are we beyond those days where a woman can behave as a slut, but you can't call her a slut?"
Lewis continued to give his reasoning for calling women who want insurance to cover contraception sluts, which shows his lack of understanding about how contraception even works.
"Now Limbaugh's reasoning was, look, if you're demanding that the taxpayers pay for your contraception, you must use a lot of them and therefore, ergo, you're very sexually active and in the old days, what we used to call people who were in college or even graduate school who were sexually active, we called them sluts," Lewis said on a radio show at the time.
News flash for Lewis: You do not take more birth control pills if you have a lot of sex.
Some of Lewis' comments had come to the fore in his first run for Congress in 2016, in which he narrowly defeated his Democratic opponent, Angie Craig.
Lewis is facing a rematch with Craig in November, and given that the 2018 midterms are being dominated by women, Lewis' words could come back to bite him this time around.