Planned Parenthood sues Idaho over abortion-reporting law that "shames" patients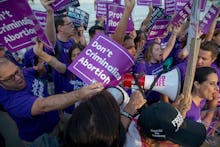 Planned Parenthood filed suit against the state of Idaho in a federal court on Tuesday, according the Associated Press, with the organization arguing that a new law that requires abortion providers to report on complications that arise in the aftermath of the procedure is unconstitutional and stigmatizing.
Signed into law by Idaho Gov. Butch Otter, the Abortion Complications Reporting Act went into effect on July 1 and requires health care providers to report on 37 secondary conditions, all of which ostensibly could be the result of an abortion. Some of the complications included in that count — including breast cancer and depression — have no documented medical link to abortion. This has led Planned Parenthood to argue that the reporting requirement isn't grounded in actual science.
The law also requires abortion providers to record personal information about the people electing to undergo the procedure, including age, race and any previous abortions. It also threatens fines and the suspension of medical facilities licenses if those stipulations are violated. In a statement on the suit, Planned Parenthood of the Great Northwest and the Hawaiian Islands said that the suit jeopardizes patient security and effectively threatens providers.
Hannah Brass Greer, chief legal counsel for PPGNHI, told the AP that the law was "another attempt by Idaho politicians to shame and stigmatize people seeking abortion care and to spread the myth that abortion is dangerous."
"These reporting requirements burden patients and their medical providers and represent another example of government overreach by Idaho politicians," Greer added.
The legislation is just the latest in a series of laws passed by conservative states to chip away at the abortion protections enshrined in the landmark Roe v. Wade decision. According to the Guttmacher Institute, 27 states currently have post-abortion reporting laws that providers are required to adhere to.