House Republicans shut down Democratic effort to fund election security measures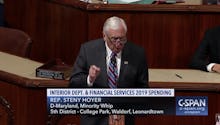 House Republicans on Thursday morning thwarted a Democratic effort to add new funding for election security measures — opening the party up to yet more criticism in the wake of President Donald Trump's controversial meeting with Russian President Vladimir Putin.
The amendment that Democrats sought to add to a bill would have beefed up security for voting systems across the country in the wake of warnings that Russia is continuing to try and meddle in U.S. elections.
House Minority Whip Steny Hoyer of Maryland sought to build support for the amendment with a fiery speech on the House floor, in which he said the amendment addressed "one of the most pressing issues of our time."
"The director of the national intelligence has said there is a flashing red danger signal similar to the one that happened before 9/11," Hoyer said in a speech on the House floor. "This amendment responds by providing for us to partner with our states to slam the door in the face of the Russian bear, or any other adversary who seeks to steal the integrity of our elections. The flashing red light calls us to action, surely we can rise above pandering to party and Putin to act on behalf of our freedom and our security."
After that line, Republicans began to gavel to try and cut Hoyer's speech off, saying his time to speak had expired.
But Hoyer kept going.
"We have sworn an oath to defend our Constitution and our liberty against all enemies foreign and domestic," Hoyer continued, eliciting cheers and chants of "USA" from Democrats in the chamber. "You have the opportunity to do that today. Vote yes on this amendment for your country."
The Republican-controlled House eventually voted against the amendment, which was introduced by Democratic Rep. Mike Quigley of Illinois. Republicans said extra funding is not necessary.
"Well, there you have it," Quigley tweeted after the vote. "Republicans just showed us where they stand by voting to ZERO out my #EAC funding amendment that would help us protect our #election infrastructure against foreign attacks."
Democrats have been stepping up their attacks on Trump and Republicans in the wake of the Putin news conference, raising questions about why Trump is acting scared of Putin.
"What is Putin blackmailing Donald Trump with?" House Minority Leader Nancy Pelosi tweeted Thursday morning. "He was, and is, deeply frightened of him."
Polls show that Trump's meeting with Putin is deeply unpopular among voters.
Only 32% of voters approved of Trump's meeting with the Russian leader, according to a CBS News poll released Thursday morning.