Movement Must-Reads: Black identity extremists and racial disparities in mass shooting coverage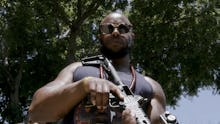 A lot of ground to cover in this week's Movement newsletter, including the launch of Mic's new Facebook Watch show, stories about Cynthia Nixon and Alexandria Ocasio-Cortez, a piece on racial bias in media coverage of mass shooters and the potential NYPD disciplinary trial against the police officer who killed Eric Garner in 2014.
Read on for more.
From Mic:
Mic's Facebook Watch show Mic Dispatch launched this week with an episode about Rakem Balogun, a black activist and armed self-defense enthusiast believed to be the first person prosecuted as a result of the FBI's black identity extremist designation. Aaron Morrison reports. Be sure to subscribe to the collection as well.
New York gubernatorial candidate Cynthia Nixon and Alexandria Ocasio-Cortez, the 28-year-old Democratic nominee for New York's 14th U.S. Congressional District, spoke to Mic about the hypocrisy behind the Women's Equality Party — which is run by Nixon's opponent, current New York Gov. Andrew Cuomo — and its somewhat ironic decision to endorse both Cuomo and Rep. Joe Crowley, who Ocasio-Cortez defeated in a June primary, over either of their female opponents.
Kelly Kasulis on a new study revealing deep racial bias in American media coverage of mass shooters.
And Chauncey Alcorn with two pieces on the New York Police Department's potential disciplinary trial against Officer Daniel Pantaleo, who killed black 43-year-old Eric Garner in Staten Island in July 2014.
From elsewhere:
President Barack Obama delivering the Nelson Mandela Annual Lecture in Johannesburg, South Africa, reproduced at the New Yorker.
And BuzzFeed's piece on Lane Davis, the far-right, pro-Trump online conspiracy theorist who killed his father in July 2017.
That's all for now. Until next week.