'Mic Dispatch' episode 2: The injectable estrogen shortage and a Chicago dance crew changing lives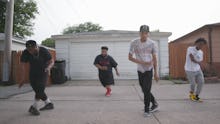 The latest episode of Mic Dispatch begins with a story by correspondent Serena Daniari about the shortage of injectable estrogen and its impact on trans communities.
For many trans-feminine individuals who are undergoing hormone replacement therapy to treat their gender dysphoria — which is marked by persistent feelings of distress when one's gender identity is not aligned with the sex they were assigned at birth — access to injectable estrogen is a critical part of their treatment.
The shortage of estradiol valerate, the generic version of the estrogen drug, has been wreaking havoc on the lives of trans-feminine individuals off and on since 2014 — and there's no way to know when the shortage will end.
The episode also features a segment by correspondent Chantel Simpson, who travels to Chicago to learn about The Era Footwork Crew, one of the city's most well-known footwork dance crews. Footwork is a type of dance and music genre that grew out of Chicago's African-American communities.
The Era is using its unique art form to help youth in Chicago find a creative outlet. The group recently became involved with a new nonprofit called Open the Circle, which will provide resources for creative projects — like footwork workshops — within Chicago's underserved communities.
Check out episode 2 of Mic Dispatch above — only on Facebook Watch.
To catch future episodes of Mic Dispatch, follow Mic Dispatch on Facebook Watch. For more stories about the show, visit the Mic Dispatch collections page.