Lin-Manuel Miranda to direct his first feature movie, an adaptation of 'Tick, Tick... Boom!'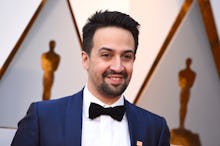 Hamilton creator and enthusiastic tweeter Lin-Manuel Miranda will make his directorial debut with a planned film adaptation of the Jonathan Larson musical Tick, Tick... Boom!, Deadline reported on Thursday. Tick, Tick... Boom! is an autobiographical musical by Rent creator Jonathan Larson, who died in 1996. It tells the story of a struggling composer (named Jonathan) trying to make it on Broadway, while his girlfriend and best friend each try to convince him to follow different paths.
Miranda, who starred in a past off-Broadway production of Tick, Tick... Boom! will also produce, and Steven Levenson, who wrote Dear Evan Hansen, will write the film adaptation. And Jonathan Larson's sister, Julie Larson, will executive produce the Tick, Tick... Boom! film.
"Tick, Tick… Boom! first entered my life in college when I was lucky enough to snag a seat at the Jane Street Theater in 2001," Miranda told Deadline. "Jonathan Larson's captivating storytelling in Rent first taught me that musicals could be contemporary, true to life and depict your own experiences."
"But it was Tick, Tick… Boom! that solidified that drive in me to hone my own voice as a playwright. On stage, playing the role of Jon in 2014 was one of my most honored achievements. To now have the opportunity to make my film directorial debut, in collaboration with the Larson Family and this incredible creative team, and to adapt a work I love so deeply, is a humbling privilege. Together, we aim to honor Jonathan's legacy and continue to position his work to inspire the next generation of storytellers."
In addition to this new film, Miranda is juggling quite a few other projects — his hit hip-hop musical Hamilton is playing in multiple cities, he's co-starring in the upcoming Mary Poppins Returns, a film version of his musical In the Heights is in the works and he just announced a new book written in collaboration with illustrator Jonny Sun.
There's also Miranda's activism. Miranda's family is from Puerto Rico, and after the island was devastated by Hurricane Maria in 2017, Miranda helped raise funds for relief efforts. He's also planning on reprising his starring role in Hamilton for a special run of the musical in Puerto Rico in 2019. And back in March, Miranda teamed up with fellow Broadway star Ben Platt for a song to benefit the March for Our Lives initiative. All that plus his adorable Twitter presence — is Miranda the hardest working man in show business?