Mic Daily: Planned Parenthood sues Idaho, FDA may weigh in on almond milk and more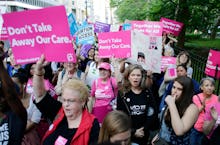 Welcome to Mic Daily: Mic's newsletter that cuts through the noise and lands in your inbox every weekday. We carefully curate each edition to send you a cross section of our most vital stories of the day. Want to receive this as a daily email in your inbox? Subscribe here.
This week on Mic's Facebook Watch show, Serena Daniari looks into the chronic shortage of affordable, injectable estrogen, and Chantel Simpson spotlights The Era Footwork Crew, who are inspiring inner-city youths in Chicago through dance.
New episodes air Tuesdays and Thursdays at 8 p.m. Eastern. Follow Mic Dispatch to continue diving beyond the headlines.
Planned Parenthood filed suit against the state of Idaho in a federal court on Tuesday, according the Associated Press, with the organization arguing that a new law that requires abortion providers to report on complications that arise in the aftermath of the procedure is unconstitutional and stigmatizing.
House Republicans on Thursday morning thwarted a Democratic effort to add new funding for election security measures — opening the party up to yet more criticism in the wake of President Donald Trump's contro meeting with Russian President Vladimir Putin.
A new study analyzed 433 news articles about 219 mass shootings that occurred between Jan. 1, 2013, and Dec. 31, 2015. The research team's methods were both statistical and qualitative, meaning human eyes combed through the news coverage along with computer models.
The disparity between the way news media portrayed white and black shooters was huge.
"An almond doesn't lactate," Food and Drug Administration commissioner Scott Gottlieb said Tuesday at the Politico Pro Summit. If the FDA decides to enforce current regulations on milk labels, you might have to start looking for your almond milk under another name.