Trump invites Putin to Washington this fall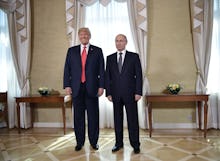 More details continue to trickle out about President Donald Trump's one-on-one meeting with Russian President Vladimir Putin, including a Thursday announcement from White House press secretary Sarah Huckabee Sanders that Trump invited Putin to Washington this fall.
"In Helsinki, @POTUS agreed to ongoing working level dialogue between the two security council staffs. President Trump asked @Ambjohnbolton to invite President Putin to Washington in the fall and those discussions are already underway," Sanders tweeted Thursday afternoon.
The announcement came four days after Trump's more than two-hour meeting with Putin and was so closely guarded that not even Trump's Director of National Intelligence Dan Coats — who oversees the U.S. intelligence community — knew about it.
Coats received the news during a sit-down interview with NBC's Andrea Mitchell, who read aloud the White House statement to Coats while he was on stage.
"Say that again?" Coats says in response to Mitchell. "Did I hear you? Did I hear you? Okay. That's going to be special."
It's unclear when in the fall Putin would come to Washington, D.C.
The optics of a visit from a Russian leader who the intelligence community says directed hostile attacks on the 2016 presidential contest in the midst of a high-stakes midterm election season cannot please Republicans — who are struggling to defend Trump's summit with Putin from earlier this week.
Already news broke that Trump was actually contemplating sending a former U.S. ambassador — who helped shepherd a sanctions bill against Russian officials — to Russia for questioning.
That announcement from Sanders on Wednesday led the Senate to unanimously pass — 98 to 0 — a resolution opposing sending those U.S. officials to Russia for questioning.
Bloomberg News also reported on Thursday that Trump appeared open to allowing Ukraine to hold a referendum to solve the conflict that's been going on in the country since Russia illegally annexed Crimea in 2014.
Given Putin's interference in the 2016 presidential election, the thought that Trump was even entertaining an election there led to an outcry.
"This sort of proposal — disrespect for Ukrainian sovereignty and territorial integrity under the guise of creating a conflict that Russia itself began — is exactly why Trump should not have held this meeting alone," Nina Jankowicz, a Russian expert at the Wilson Center, tweeted.