Whoa, Vicky: How an 18-year-old girl turned controversy into cash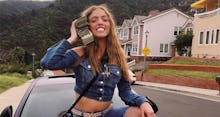 Maybe you've come across Victoria Rose Waldrip in your Instagram explore tab. Petite with acrylic nails and constantly changing hairstyles, she seems familiar at first glance: casually lounging in athletic wear, baring shoulder and midriff in the sun, chilling on a park bench. It's when Vicky opens her mouth that things depart from the norm.
Waldrip goes by the name "Woah Vicky" online and has transcended Instagram, making headlines for claiming that she's black and for her use of a "blaccent" and the word "n*gger." There was also her widely publicized arrest for allegedly kicking a police officer, after which she reportedly declared, "Black lives matter!" Recently, she threatened Snoop Dogg and he responded, which also garnered press.
At 18 years old, she's been compared to Rachel Dolezal, the woman who infamously stepped down as the NAACP chapter president in Spokane, Washington, amid criticism when her parents revealed she was not, as she claimed, black. But unlike Dolezal, Woah Vicky is sticking around: Over the past year, as she continued to attract controversy, her follower count has quickly grown.
About a month ago, Vicky deleted all of her old Instagram posts, but, this being the internet, almost all of her activity from the past 12 months can be found elsewhere online. Recently, she's started posting again; her YouTube page remained active in the interim.
"The hate, of course, brought her a lot of negative attention," Kennedy C., Vicky's executive assistant, said in an email, "which eventually led people to love who she was becoming instead of the person she was." Vicky declined to speak to Mic, citing travel, but Kennedy spoke to Mic over the phone and in subsequent emails.
In the social media attention economy, Woah Vicky is just one of many who've raised themselves to prominence thanks to an eye-catching gimmick, shrewd use of "controversy" media coverage and conflict with other influencers. Over the course of roughly one year, from summer 2017 to summer 2018, she managed to accumulate 2 million Instagram followers, millions of views and widespread media attention from a number of outlets. She's also made money off all of it.
Regardless of how offensive figures like Woah Vicky might be to some, social media celebrities like her have found a way to use shock and fascination to build rapt audiences and make money — even from the people who love to hate them. Here's how Vicky did it.
Like and subscribe
Spend five minutes on Woah Vicky's or her contemporaries' social media accounts and you'll realize that she's part of a rich tapestry of drama that reaches across social and publishing platforms like YouTube, Twitter and Instagram. No one knows this better than the content creators themselves: Over the past year, data seems to indicate that Vicky's public conflicts have been the primary driver of growth on social platforms.
After she'd started gaining attention in summer 2017, Vicky publicly "fought" with controversial YouTuber Bryan Le. Le, who goes by the username RiceGum, is a massively popular content creator who's monetized his criticisms — which he sometimes sings — of other YouTube creators. He's not without controversies of his own (in one video, he asked a woman talking about her rape if it "felt good" and then later apologized), but nevertheless has a tendency to play the victim.
After Le made a remark about Vicky in one of his videos, she responded with a strongly worded video. Le took the bait, responding with a lengthy video dedicated solely to her.
In September, Vicky answered with a music video "diss track" that garnered press for its spectacularly racist messaging: "Ching chong ching chong ching chong, bitch," the hook goes. Each installment of this "fight" got millions of views for both involved on YouTube, and throughout it all Vicky's Instagram following spiked.
Until that point, Vicky had largely gotten press coverage for claiming to be black, but her conflict with Le provided the perfect launchpad: Beef with an infamous content creator pushed her to the next level. Vicky became a talking point for numerous other online personalities: Even Felix Arvid Ulf Kjellberg, aka PewDiePie, the Swedish YouTuber who may as well have invented the form, weighed in.
Regardless of who made them, videos about Vicky have racked up millions and millions of views.
More recently, Vicky clashed with 15-year-old Danielle Bregoli — aka the "Cash Me Outside" girl, whose viral fame is in the process of being repurposed into a rap career by men older than she. An IRL confrontation between the two in April caught on video saw the search term "Woah Vicky" get its highest search spike to date, according to Google Trends. Her followers spiked that week, as well.
But Vicky's follower-boosting conflict didn't just happen in the influencer space. In late February, she was arrested at the Four Seasons Town Centre in Greensboro, North Carolina, allegedly after kicking a police officer.
Naturally, the event was well-documented. A widely circulated video clip captures the moment that Vicky, wearing a crop top and a decorative chain around her midriff, is tackled to the ground by police officers, while a woman screams in the background, "Why are you doing that to her? Get off of her!"
After she was released, Vicky posted a picture of her mugshot to Instagram with the hashtag #FreeVicky. As the arrest video circulated online, the event was covered extensively by digital publishers like the Blast, International Business Times, Blavity and LadBible — but also by the Daily Mail, the New York Post and local outlets.
This accounts for her second-highest Google search spike to date, and as the news broke, her followers spiked yet again.
Vicky and others like her are playing in the aforementioned "attention economy," which doesn't value what's right or wrong — only what gains and retains capital.
"In the attention economy, there is no value except how many people follow you, like you, how many eyeballs are on you," Isra Ali, a clinical assistant professor of media, culture and communication at New York University, said, "how able you are not just to get attention, but to sustain it over a period of time."
"It doesn't matter if the behavior is good or bad; it doesn't matter if the behavior is criminal or legal, offensive or inoffensive, that which gets attention is that which rules," she said. "Things that once would have hurt one's reputation are now currency." By this measure, Vicky's wealth surpasses physical cash — though, over the course of the past year, she's posted plenty of pictures of that, too.
Of course, the payoff for being controversial is nothing new — just look at the man currently occupying the Oval Office.
"It doesn't matter if we're horrified or not," Ali said. "It's happening, and we kind of have to deal with it."
"We young billionaires"
The attention economy isn't funded by eyeballs alone.
Some of RiceGum's 10 million YouTube subscribers are served ads for which he is paid some percentage, while Danielle "Cash Me Outside" Bregoli (with 5 million YouTube subscribers herself) allegedly charges $30,000 for public appearances. But what about Vicky, with her humble 2 million Instagram followers, who's only been at it for about a year?
Mic has identified and confirmed several ways Vicky has made money off of her infamy, but it's still unclear exactly how much she's making.
Usually, Instagram influencers monetize by partnering with brands for sponsored content posts. It can be very lucrative. It's not likely that Vicky will be seeing any partnerships with brands you'd recognize soon, though, according to Courtney Spritzer, co-founder of social media agency SocialFly.
"There are controversial brands out there, so I'm sure there are certain brands that will work with these influencers," Spritzer said. "I wouldn't say no brand would ever. But I think that a lot of the mainstream brands that can't get too controversial would likely stay away."
Still, Kennedy said that before deleting her Instagram posts, Vicky had made some deals and posted some sponsored content. Kennedy didn't give specifics on which clients worked with Vicky, but she said a sponsored Instagram post could run for roughly $4,000 and a shoutout in Vicky's Instagram Story would be around $1,000. All of this adds up, Kennedy said.
For a time, Woah Vicky also had an online store, where she sold branded T-shirts, ski masks and grills — those metallic dental fronts popularized by hip-hop artists.
Vicky has also worked to monetize the views she accumulated through her app, Woah Vicky, a simple tap game she frequently plugged on her Instagram Story. The game has both banner and interstitial ads and was created by a company called Squad Social, run by Josiah Jenkins — who, Complex reported, is the brother of an influencer Vicky allegedly dated for a time. (Kennedy implied to Mic that the relationship was mostly for show.)
Jenkins is in the business of quickly producing apps to respond to viral trends — Damn Daniel, for instance. He builds them with ads baked in, seemingly hoping to make quick and large sums of money while the apps' subjects are at their viral peak.
"His monetization strategy is simple," Julia Martin — a senior manager of strategic partnerships at MoPub, the Twitter-owned ad serving platform that works with Jenkins — wrote in an email. "He earns revenue by running ads in his app, and this is powered by MoPub's ad platform and ad exchange."
Martin described this kind of game production as "very, very lucrative." Each time someone opens the Woah Vicky app — even if it's just one time — Jenkins' company, and Vicky by extension, makes money.
For a time during the past year, Vicky's Instagram stories were also peppered with offers for free, brand-new iPhone Xs.
"I thought that iPhone stuff was fake, but bruh I'm tellin' you, it's real," Vicky promised in one Instagram Story. "All you gotta do is swipe up and tell them what kind of phone you want."
Swiping up on the link took you to prizes4fun.xyz. Allegedly all you have to do is give your address, personal information and "verify you're a human" by downloading and opening several apps.
When you click on the terms of use link at the bottom of the site, it just takes you back to the landing page.
"This is the first time I've ever heard of an influencer peddling this kind of thing," Zack Allen, director of threat operations at cybersecurity company ZeroFox, said. "Usually it's bots posting these: lots of bots, lots of spam."
"It's not illegal as far as I can tell," Allen added. "Spam is one of those things that everyone agrees to hate — but it's in a legal gray area." He pointed out that Congress passed the overarching federal spam law 15 years ago.
According to Kennedy, the prizes4fun deal was made with a company that reached out to Vicky and paid her via a traditional ad-revenue model — meaning she was paid for clicks through to the URL.
The numbers provide some perspective: After footage of Vicky's altercation with Bregoli made it online, Vicky's Instagram follower count jumped by tens of thousands — with more likely visiting her profile without following.
If any of those visitors had viewed her Instagram Story, based on Mic's observation at the time, they would have been served not one but two different clips prompting them to claim a free iPhone X of their own. It's likely some clicked through, and, as Allen put it, "someone's making money here somewhere."
Instagram and Facebook representatives haven't returned Mic's repeated requests for comment. Information about advertising on Instagram is available online, and the platform's promotion guidelines do not seem to specifically address promotions that may be spam.
Too far?
"Does Social Media Star Go Too Far?" Good Morning America asked in a recent segment about Lil Tay, a controversial 9-year-old whom Vicky was associated with. (The clip netted GMA more than 4 million views on YouTube.)
For those who don't understand it, looking into this world can inspire a feeling of cultural vertigo, if not outright disgust. Ali, the NYU clinical assistant professor, said this is normal.
"There's a tendency to feel — and I feel it — a kind of revulsion that makes us want to disavow [Vicky], which I think is a mistake," she said. "Because the truth is that when the children of our society behave in a way, [it's] because they are a product of us. We created them. They didn't just manifest from the ether."
Vicky may be taking it slow now, but Kennedy said she's far from done.
"You will be seeing more of her very, very soon," Kennedy promised, calling Vicky's Instagram blackout a "minor setback for a major comeback." What this comeback will look like is yet to be determined. As of now, 2 million people are following a nearly empty Instagram profile.
Kennedy also said that though Vicky's overt claims of being black were done to attract attention, she is generally still presenting an authentic self — that's just how she talks.
That seems to be in line with Ali's broader assessment.
"It's important to understand this type of production of the self online," Ali said, "all the different ways young people take on ways to express themselves to create identities and, you know, make money."
"She's laughing all the way to the bank," Ali concluded. "I think she might actually have a lot of insight and thought about her behavior — or maybe not."