Hype Daily: Chance's new project, Rihanna's next album and more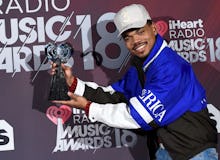 Welcome to Hype Daily, Mic's morning entertainment roundup. Here's everything you need to catch up on in the entertainment world and what to look forward to today. Want to receive this as a daily email in your inbox? Subscribe here.
Good morning from Hype reporter Anna Swartz.
Chance the Rapper bought a news website
Yup, that's right — musician and activist Chance the Rapper dropped four new songs Thursday, and in one of them, he revealed he purchased the local news website Chicagoist from its most recent owner, WNYC. "I bought the Chicagoist just to run you racist bitches outta business," he rapped in his new track "I Might Need Security."
As the New York Times reported Thursday, Chance confirmed the news that he bought the site in a statement through WNYC. He said he was "extremely excited to be continuing the work of the Chicagoist" and that his plans were to offer "an independent media outlet focused on amplifying diverse voices and content." Welcome to the world of digital media, Chance.
Rihanna might be working on two new albums
Rolling Stone reported Thursday that Rihanna is working on a dancehall and reggae album — and sources close to the singer hinted to the magazine that she might be working on a second, separate pop album. According to Rolling Stone, Rihanna has been gathering demos from "top-tier Jamaican talent" for the dancehall album.
One dancehall producer who wasn't identified by name told Rolling Stone that the team behind the dancehall album has "been having writing camps and trying to keep them quiet for almost a year and a half now. I've been flying to Miami, flying to L.A., cutting records nonstop for this project." Mysterious!
There are now apparently six Thai cave rescue movies in development
Last time I checked in on this, there were two competing films planned about the rescue of a Thai soccer team from a flooded cave that happened earlier this month — one from the Christian production company Pure Flix Entertainment and the other from Crazy Rich Asians director Jon M. Chu. Well, now that number has shot up significantly. Variety reported Friday that, per some "Thai government sources," there are now six separate films in the works about the dramatic search and rescue mission. Is that too many Thai cave rescue movies, or just the right number of Thai cave rescue movies?
Three Identical Strangers is also being adapted into a new film
The new documentary Three Identical Strangers, about three real-life triplets who were separated as infants and adopted by three separate families, is also being adapted into a new feature film, the Hollywood Reporter reported Thursday. Apparently Film4, Sidney Kimmel Entertainment and Raw Partners are working on a film about Robert Shafran, David Kellman and Eddy Galland — the triplets who only discovered each other's existence by chance. But how will they find three identical actors?
Put this on your radar: Blindspotting
Blindspotting, a new film written by and starring Rafael Casal and Daveed Diggs, hits theaters today. Set in their hometown of Oakland, California, the movie stars real-life friends Diggs and Casal as two best friends struggling to navigate gentrification and police brutality in their neighborhood. Rolling Stone called it "a movie that finds its humor in some hellish places" and noted its "striking regional authenticity." For a real Oakland-themed night, watch this and Sorry to Bother You back-to-back.