Today in Trump's America: Trump's troubles over the Putin summit are far from over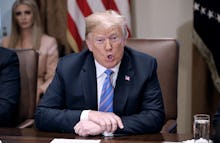 Welcome to Mic's daily read on Donald Trump's America. Want to receive this as a daily email in your inbox? Subscribe here.
Good morning from Emily Singer at Mic.
Here's what's happening in Trump's America:
• Trump has no public events on his schedule, as he's traveling to his golf club in Bedminster, New Jersey. Fact: In his 546 days in office, Trump has spent 171 days at Trump properties, according to NBC News.
About last night: Trump invites Putin to Washington this fall
Just what Republicans wanted: The Russian autocrat who directed the hostile cyberattacks during the 2016 election will come to Washington this fall — right in the midst of a high-stake midterm election season, which could see the GOP's majorities in the House and Senate washed away by a wave of anti-Trump sentiment.
White House press secretary Sarah Huckabee Sanders announced Thursday afternoon that Trump invited Putin to Washington during the leaders' one-on-one meeting in Helsinki. Now, inviting a hostile world leader who interfered in U.S. democracy to Washington — in another election season, no less — is being criticized by Democrats.
"When your home is burglarized, you don't invite the burglar to dinner," Rep. Eric Swalwell, a California Democrat on the House Intelligence Committee, said Thursday night on CNN.
The White House is also being criticized for not releasing all the details about Trump's summit with Putin, as agreements Trump apparently made with Putin are continuing to leak out — even taking the president's own intelligence officials by surprise.
For example, Dan Coats, the director of national intelligence who oversees the entire U.S. intelligence community, was caught off guard during an on-camera interview with NBC News' Andrea Mitchell when it broke that Trump invited Putin to Washington.
"Say that again?" Coats said after being read the news. "Did I hear you? Did I hear you? Okay. That's going to be special."
Coats went on to say Trump never should have met alone with Putin, and he doesn't know all of what was discussed between the two men.
Today in Trump's America: One of the worst weeks of Trump's presidency comes to an end
Trump has weathered numerous negative news cycles since he took office more than a year-and-a-half ago: his post Charlottesville reaction, when he allegedly called African nations "shithole countries" and recently, when his administration adopted the policy to separate children from their parents at the border.
This week, however, may truly have been the worst of Trump's tenure. The criticism of his meeting with Putin has been loud and bipartisan, with Republicans standing up to castigate the president for embracing not only a brutal dictator, but also a brutal dictator who is hostile to the U.S.
Unfortunately for Trump, the particular bad news cycle won't end with the the close of the week.
Senate Republicans now plan to haul in Mike Pompeo for a hearing Wednesday to demand answers about what Trump and Putin talked about in their one-on-one meeting in Helsinki.
Possibly worse for Trump, the first trial for his former campaign chairman Paul Manafort begins Wednesday. It will bring special counsel Robert Mueller's ongoing investigation into the Trump campaign's ties to Russia to the fore.
Capitol Hill happenings: Senate unanimously passes resolution opposing Russia's request to interview U.S. officials
After days of negative attention surrounding Trump's summit with Putin, the Senate Thursday took a concrete step to criticize Trump, unanimously passing a resolution voicing opposition to letting Russia question current and former U.S. officials.
The vote came after press secretary Sanders revealed Wednesday that Trump was considering sending two men — including a former U.S. ambassador to Russia — to Russia for questioning. The two men Trump considered sending helped advocate for the Magnitsky Act, which placed punitive sanctions on Russian officials as punishment for the murder of Russian anti-corruption tax accountant Sergei Magnitsky.
The revelation led to intense backlash against the White House, which reversed course on the position Thursday afternoon and said instead that "hopefully" Putin will let the 12 Russian military officers indicted for interfering in the U.S. elections come to the U.S. to face trial.
"It is a proposal that was made in sincerity by President Putin, but President Trump disagrees with it," Sanders said in a statement. "Hopefully, President Putin will have the 12 identified Russians come to the United States to prove their innocence or guilt."
Even that statement was panned by critics.
"The proposal from Putin was not made 'in sincerity,'" Bloomberg opinion columnist Eli Lake tweeted. "It was a gangster seeing [how far] he could push. And Trump at the presser in Helsinki seemed quite pleased with it. Happy for the clarification, but come on."
"A proposal made in sincerity??" Matthew Miller, a former official in former President Barack Obama's White House, tweeted. "Funny how even on day four, the WH that bullies everyone in the world still can't be properly tough with Putin. Also, Mueller has indicted 25 Russians for interfering in our election, not 12."
And the rest…
Racist comments sink Trump judicial nominee: Senate Republicans were about to confirm a Trump judicial nominee to a lifetime appointment in the 9th Circuit Court of Appeals — an important court that currently has a liberal leaning. But at the last minute, GOP Sen. Tim Scott of South Carolina decided to vote against the nominee, Ryan Bounds, over concerns about racist comments Bounds made as a student at Stanford University.
The fact that Bounds' confirmation got as far as it did was already newsworthy. Both senators from Bounds' home state of Oregon oppose his nomination, and the Senate has traditionally not voted on judicial nominees who are opposed by the nominee's home-state senators. Yet Senate Republicans — including Judiciary Chairman Chuck Grassley (R-Iowa) and Majority Leader Mitch McConnell of Kentucky — ignored that tradition to put Bounds up for a vote.
But Bounds' comments, made when he was an undergraduate at Stanford University in the 1990s, ultimately sunk his nomination at the last minute. He had said multicultural student groups on campus "seem always to contribute more to restricting consciousness, aggravating intolerance and pigeonholing cultural identities than many a Nazi bookburning" and that they "divide up by race for their feel-good ethnic hoedowns"
Democrats used the incident as a reminder of the power Republican senators have if they disagree with Trump's agenda or behavior.
"We've been waiting on Senate floor for an hour to vote on the latest radical, unqualified judge. But one R has cold feet and all of a sudden the vote may be cancelled," Sen. Chris Murphy (D-Conn.) tweeted. "Reminder of what can happen when one single Republican Senator decides to do the right thing."