Who's Sorry This Week? Elon Musk, CVS and other public apologies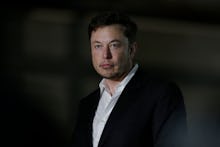 Another week, another deluge of apologies.
In Who's Sorry This Week? Mic tracks down the most prominent mea culpas from celebrities, companies and other public entities trying to make amends for their various screwups.
This week had no shortage of apologies, so let's get right to it.
Mark Duplass is sorry for a "disaster" of a tweet suggesting his followers read Ben Shapiro's work
Thursday morning, Mark Duplass — actor, director, producer, etc. — suggested that his Twitter followers check out Ben Shapiro, founder of conservative news site the Daily Wire, who is blatantly transphobic.
"Fellow liberals: If you are interested at all in 'crossing the aisle' you should consider following @benshapiro," Duplass tweeted, then deleted, according to Vox. "I don't agree with him on much but he's a genuine person who once helped me for no other reason than to be nice. He doesn't bend the truth. His intentions are good."
Many of the responses to Duplass' original tweet were critical, saying that he was myopic in using his platform to boost the profile of Shapiro — someone who mocked black people for being excited about Black Panther, for example — because he was nice to Duplass one time.
Thursday, Duplass posted an apology on Twitter.
"So that tweet was a disaster on many levels," Duplass tweeted. "I want to be clear that I in no way endorse hatred, racism, homophobia, xenophobia or any such form of intolerance ... I'm really sorry. I now understand that I need to be more diligent and careful. I'm working on that."
Tesla and SpaceX CEO Elon Musk is sorry he called one of the rescuers in the Thailand cave operation a "pedo guy"
When the news initially surfaced that a Thai children's soccer team was trapped in a cave, some people called on Elon Musk, the CEO of Tesla, to put his vast resources toward the cause. He responded that he would be "happy to help if there is a way to do so."
His solution? A teeny-tiny submarine that could theoretically maneuver through the underwater caverns and extract the trapped kids one by one.
However, Musk's tech-focused solution was a little too late to the party, and the rescue was completed without Musk's help, according to Business Insider. Vernon Unsworth, a British caver who was instrumental in the rescue efforts, criticized Musk's invention as having "absolutely no chance of working."
"He can stick his submarine where it hurts," Unsworth said, per CNN, later calling Musk's child submarine a "PR stunt." (Thai officials called the submarine impractical, according to the New York Times.)
Unsworth's remarks seemingly infuriated Musk, sending him on yet another insult-laden Twitter rampage — his latest in the last few weeks, many of which have been directed at journalists. (Hi, Elon, big fan.) In one tweet, Musk baselessly accused Unsworth of being a "pedo guy."
"Bet ya a signed dollar it's true," Musk said in one of his tweets, which have since been deleted.
Musk's comments drew the ire of many, including investors, leading Tesla's stock to plummet by more than 3% — the equivalent of about $2 billion, according to Global News. In fact, Unsworth told CNN he was considering suing Musk for libel, according to the Guardian.
Rather than release a public statement, Musk apologized Wednesday in the form of a response to a tweet from one of his supporters. The tweet Musk responded to cited a post on the crowd-sourced question-answering website Quora — kind of like Yahoo! Answers — written in defense of Musk's mini-sub. Musk called the Quora post a "well-written article."
"My words were spoken in anger after Mr. Unsworth said several untruths & suggested I engage in a sexual act with the mini-sub, which had been built as an act of kindness & according to specifications from the dive team leader," Musk said. "Nonetheless, his actions against me do not justify my actions against him, and for that I apologize to Mr. Unsworth and to the companies I represent as leader. The fault is mine and mine alone."
CVS is sorry one of its store managers called the police on a black woman who wanted to use a coupon
Camilla Hudson, a 53-year-old black woman, recently posted a video on Facebook of an interaction she had at a local CVS store in Chicago after trying to redeem a manufacturer's coupon.
Morry Matson, the store's manager at the time, who is white, said the coupon looked fake, and declined to let her use the coupon. Hudson insisted the coupon was legitimate. Eventually, after the two argued back and forth a bit, Matson called the police, alleging that an "assault" was in progress, according to ABC. Police did not file any charges when they arrived on scene, according to CBS.
After reviewing the incident, CVS fired Matson — who gained the moniker "Coupon Carl" after Hudson's video went viral on social media — along with another employee who was involved.
"We have sincerely apologized to Ms. Hudson for her experience in one of our Chicago stores," CVS said in a statement posted to Twitter on Monday. "Our region director in Chicago contacted her as soon as we were made aware of the incident."
The Illinois chapter of Log Cabin Republicans, of which Matson was president, "has been terminated" because of Matson's behavior, according to ABC.
MLB player Josh Hader is sorry he tweeted misogynistic and homophobic things
In 2011 and 2012, at the age of 17 and 18, Milwaukee Brewers pitcher Josh Hader posted a number of offensive, bigoted statements on his personal Twitter. One tweet used an anti-black racial slur and another simply said, "I hate gay people," according to ABC.
The tweets began surfacing once more during the MLB All-Star game on Tuesday, which led to some of Hader's family members, who were sitting in the audience, to swap out the jerseys with Hader's name on them for generic ones, according to CBS.
In the locker room after the game ended, Hader apologized during interviews with reporters.
"As a child I was immature and obviously I said some stuff that was inexcusable," Hader said, according to ABC. "That doesn't reflect on who I am as a person today.
"There's no excuse for what was said and, you know, I'm deeply sorry for what I've said," he added.
Hader will undergo sensitivity training, according to ABC.