What Melania wore her 78th week as first lady — including to the Helsinki meeting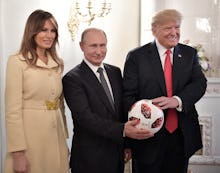 After last week's stops in Belgium and the U.K., this was yet another week of international travel for the first lady. Melania Trump's excursions included accompanying her husband to Helsinki for his disastrous meeting with Russian President Vladimir Putin, and then heading back to the White House again.
Here is what she wore this week:
Sunday, July 15: Ralph Lauren pants and an Isoude coat to arrive in Helsinki
Stepping off of Air Force One in Helsinki, Finland, on Sunday, Trump wore Ralph Lauren leather skinny pants, an Isoude driving coat, Louboutin flats and an Hermès Birkin bag that retails for $8,300. The look was topped off with a pair of Trump's signature oversized sunglasses.
Monday, July 16: A Gucci coat to the Putin meeting
On Monday, Trump showed up to the meeting between her husband and Putin wearing a yellow Gucci coat with a butterfly buckle detail and matching yellow heels. Finland's first lady, Jenni Haukio, was also in attendance at Helsinki's Presidential Palace, and wore a butterfly-themed outfit in what was either a show of international solidarity or a fashion coincidence.
Wednesday, July 18: A Michael Kors skirt to arrive back at the White House
Landing back at the White House on Wednesday, Trump wore a Michael Kors blazer along with a Michael Kors pencil skirt, a skinny belt and a pair of shades.
You can read previous recaps of what Melania Trump wore here.