While You Weren't Looking: 5 stories from the Trump administration that aren't about Russia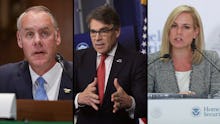 This week the news was dominated by President Donald Trump's controversial meeting with Russian President Vladimir Putin, and the late-breaking news that the FBI has a tape of Trump and his personal attorney Michael Cohen discussing hush payments to a Playboy model.
But as news broke out of the White House and the FBI, major stories out of the many other agencies of the federal government flew under the radar.
Here are five important stories you might have missed.
Plutonium was stolen out of the back of an Energy Department employee's rental car
In what might best be described as a major "oops" moment for the Department of Energy, two DOE employees appear to have lost highly volatile radioactive materials after leaving them in a rental car, according to a report from Texas news outlet My San Antonio.
On a March 2017 trip transporting the materials from a facility in San Antonio, Texas, to one in Idaho, the two officials reportedly stopped at a Marriott Hotel off Highway 410, and left the materials in the back seat of their rented Ford Expedition.
When they awoke the next day, they discovered that the window of the car had been smashed and the radioactive materials, as well as some of their equipment, had been stolen.
Now more than year later, My San Antonio reports that the materials still have not been located.
The Treasury Department will allow dark-money groups to conceal their donors
The U.S. Treasury Department paved the way for more dark-money spending in future elections this week, with a new rule allowing outside political groups to conceal their donors.
Under the previous rules, non-profit organizations who could spend money during elections promoting certain issues and agendas were mandated to disclose their donors to the IRS.
But under the new rules that came to light on Tuesday, those groups will no longer have to reveal who is funding their efforts.
Democrats and campaign finance reform advocates worry that the new rules may also make it easier for groups to funnel foreign money into American elections.
But the administration appears to be moving ahead with the rule change, regardless of the risks.
Trump administration rolls back protections for endangered species
On Friday, the U.S. Fish and Wildlife Service and National Oceanic and Atmospheric Administration announced that they may soon make major changes to the way they enforce laws protecting endangered species, rolling back or weakening some key provisions in those laws.
The new rules would make it harder for species at risk of becoming endangered to receive protections under the act, and would change the way the federal government designates "critical habitats" for endangered species.
U.S. Fish and Wildlife Service Principal Deputy Director Greg Sheehan said in a statement that the changes are aimed at "reducing the regulatory burden on the American people."
But environmental and conservation groups are already blasting the new rules. Brett Hartl of the Center for Biological Diversity called the changes "a rubber stamp for powerful corporate interests" in a statement posted on the organization's website.
EPA staffers worried about their own exposure to formaldehyde but not the American public's
Newly revealed internal emails show that staffers to former Environmental Protection Agency administrator Scott Pruitt worried that fancy new furniture their boss ordered could expose members of the agency to formaldehyde and ordered that it be aired out before entering the office.
"Formaldehyde will off gas from new furniture and can irritate eyes and throats," EPA acting assistant administrator Wendy Clelland-Hamnett wrote in a 2017 email about the new furniture. "So I suggest airing out the components somewhere for a day or two before assembling in the administrator's office."
Officials headed that advice, and were able to have the furniture sit in a warehouse for a week.
But shortly thereafter, officials in that same agency blocked a key report on the dangers of formaldehyde from being released to the general public.
The emails about Pruitt's office furniture were first discovered by the government watchdog group American Oversight.
Last month, Politico broke the news that EPA officials were suppressing the study on the dangers of formaldehyde, which can cause leukemia and other diseases in people who are exposed to its vapors.
Pruitt has since resigned amid the series of scandals that surrounded his tenure, but his replacement Andrew Wheeler is expected to carry on his legacy of stifling environmental regulations.
DHS secretary doubles down on Trump's controversial Charlottesville claims
Department of Homeland Security Secretary Kirstjen Nielsen echoed one of the most controversial remarks of Donald Trump's presidency on Friday, saying that, when it came to the 2017 white supremacist rally in Charlottesville, Virginia, "it's not that one side is right and one side is wrong."
The rally, which took place in August, was organized by overt white supremacists. One of those in attendance, James Alex Fields, was accused of killing 32-year-old Heather Heyer by driving his car into a large group of counterprotesters.
The president responded to the incident by blaming the violence on "both sides," drawing widespread condemnation from both sides of the aisle.
Correction: July 23, 2018