FBI has tape of Michael Cohen and Donald Trump discussing payment to former Playboy model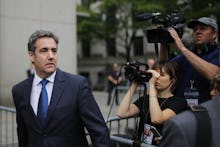 The FBI has a tape of President Donald Trump and his longtime personal lawyer, Michael Cohen, discussing payments to former Playboy model, Karen McDougal, who claimed to have had an affair with Trump, the New York Times reported on Friday.
The FBI got the recording from a raid of Cohen's personal residence and office back in April as part of an investigation into Cohen's role in payments to women right before the 2016 presidential election who claimed to have affairs with Trump.
The tape shows the legal trouble both Cohen and Trump are in over the payments, which experts told Mic back in May could be in violation of campaign finances laws.
Rudy Giuliani, who is now working as a personal lawyer for Trump, told the New York Times that the tape exists, but that a payment to McDougal was never made.
Giuliani went on to tell the times that the tape is "powerful exculpatory evidence" because Trump says on the tape that Cohen should make the payment to McDougal via a check rather than cash in order to document it.
McDougal did ultimately receive a payment of $150,000 from the National Inquirer which never published her account, thus keeping it out of the public eye in the days before the 2016 election.
The National Inquirer is owned by David Pecker, a longtime friend of Trump.