Paramount TV president fired, allegedly over her comments about black women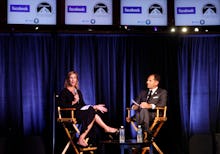 Amy Powell, president of the recently revived Paramount Television studio, was fired this week, allegedly over comments she made about black women on a professional call, The Hollywood Reporter reported on Thursday.
In a memo sent out on Thursday announcing the news within the company, Paramount CEO Jim Gianopulos reportedly said that "multiple individuals" had voiced "concerns around comments" that Powell made "which they believed were inconsistent" with company values, according to The Hollywood Reporter.
"I want to take this opportunity to remind everyone of the type of company and culture we're committed to building at Paramount," Gianopulos said in the memo. "It's one of inclusion, honesty and accountability – where diversity is critical to ensuring that all ideas, backgrounds and perspectives are embraced and respected."
Sources told The Hollywood Reporter that the comments in question happened during a studio notes call for the rebooted divorce comedy First Wives Club, an upcoming television project helmed by screenwriter Tracy Oliver. Unlike the original 1996 movie, the new TV series will have a leading cast of all black women.
"It is all black women, at least for the pilot," Oliver told Mic in an interview back in April, speaking about her plans for the project. "We're definitely going to expand beyond that in the series, if that happens, but the pilot is three black friends who went to college together."
According to The Hollywood Reporter, Powell's comments on the call that caused people to raise concerns were allegedly "generalizations" about black women. In the memo sent out on Thursday, Gianopulos said that the decision to fire Powell was made after a "thorough investigation" into her comments.
Without naming names, Oliver tweeted obliquely back in June about "a moment today that REALLY pointed out why we need representation across the board."
Powell was reportedly picked to run the Paramount Television studio — which is the television production arm of Paramount — back in 2013, and has overseen production of projects like 13 Reasons Why, which aired on Netflix, and The Alienist, which aired on TNT. According to The Hollywood Reporter, Powell denied the allegations, and said in a statement, "There is no truth to the allegation that I made insensitive comments in a professional setting — or in any setting ... The facts will come out and I will be vindicated."