Coming Up This Week in Politics: Family reunification deadline arrives & Paul Manafort trial begins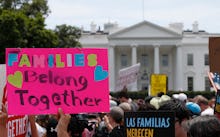 After a week that has been described as potentially the worst of Donald Trump's presidency, the political world is gearing up for another consequential week.
Major battles will play out in the judicial system, as the court-mandated deadline for reunifying immigrant families separated by the Trump administration arrives and former Trump campaign manager Paul Manafort's trial begins in Virginia.
The controversies that began during Trump's recent trip to Europe, where he challenged European allies and flattered Russian President Vladimir Putin, are also set to continue to play out, thanks to an upcoming Capitol Hill hearing and another potentially contentious Trump meeting.
Here's what to expect from the week ahead.
Family separations: The Trump administration faces a July 26 deadline to reunite the more than 2,500 immigrant children separated from their parents under the adminstration's "zero tolerance" policy. Whether the Trump administration will meet that deadline, which was imposed June 27, is still unclear: As of Thursday, the government said it had only reunited 364 of the 2,551 children separated from their families — just 14%. Only 57 of the 103 separated children under the age of five have been reunited, despite a court-mandated July 10 deadline for their separation.
In addition to the July 26 deadline, the government also has to respond by July 23 to an emergency motion filed by the American Civil Liberties Union, which would force the government to temporarily halt the deportation of immigrant parents until one week after they have been reunited with their children. The deportations have temporarily been paused while attorneys debate the delay, CNN reported.
Paul Manafort: Former Trump campaign adviser Paul Manafort's federal trial will begin in Alexandria, Virginia, Wednesday. The trial will focus on 18 charges of bank fraud and foreign bank account allegations, CNN noted, tied to Manafort's work as an adviser to Russian-backed government officials in Ukraine.
If convicted, Manafort could face a 300-year prison sentence, although there's speculation that Trump could pardon his former colleague. The special counsel's office is expected to bring 500 pieces of evidence against Manafort, as well as the testimony of five unidentified witnesses to whom Mueller has asked a judge to grant immunity.
The legal proceedings will mark the first trial of the Robert Mueller investigation, which has charged 32 people as of mid-July. Manafort and associate Rick Gates were indicted in October and again in February for their Ukrainian work, and Manafort has been awaiting the trial in prison since June, when his bail was revoked over accusations that Manafort had tampered with witnesses in the upcoming trial. Though Manafort's charges are not directly related to his work on Trump's campaign, the case's presiding judge, U.S. District Court Judge T.S. Ellis III, noted during a May hearing that Mueller could be prosecuting Manafort to get him "to sing" against Trump.
Congress: The fallout over Trump's meeting with Putin is likely to continue this week in Congress, as lawmakers wrap up their work before their August recess. Senate Minority Leader Chuck Schumer has called for the interpreter present during the meeting to be interviewed — a prospect that was already shot down by Republicans in the House.
Most notably, Secretary of State Mike Pompeo will testify before the Senate Foreign Relations Committee Wednesday. He's expected to answer questions about the president's Helsinki meeting in addition to discussing North Korea.
Beyond the Russia controversy, the Senate will consider the nomination of Robert Wilkie as the next Secretary of Veterans Affairs, while the House is set to vote on legislation concerning veterans and health care and improving the National Suicide Hotline. The House will also hold hearings on election security, steel and aluminum tariffs and the impact of the new tax law.
This week will also bring a bipartisan effort on climate change, as Republican Rep. Carlos Curbelo of Florida is expected to introduce new legislation Monday that imposes a carbon tax on coal and natural gas emissions. If passed, it would generate $700 billion in infrastructure funding. However, the legislation comes days after House Republicans voted on a resolution decrying a carbon tax as detrimental to the economy, leading to uncertainty over how the Republican-backed bill will play out.
Georgia runoff election: Georgia voters will head to the polls Tuesday for a runoff election ahead of the November midterms. The primary race to watch is the Republican gubernatorial election, which pits Lieutenant Governor Casey Cagle against Georgia Secretary of State Brian Kemp. Trump gave his "full and total endorsement" to Kemp on Twitter Wednesday, saying he was "strong on the border" and "protects our Second Amendment."
The winner will face off against Democratic nominee Stacey Abrams, who will become the first black woman governor in the U.S. if elected.
Trump's agenda: The president's agenda this week will include several trips to the Midwest. Trump will head to the Veterans of Foreign Wars national convention in Kansas City, Missouri, Tuesday, followed by Thursday trips to Dubuque, Iowa, and Granite City, Illinois, where Trump has used a steel plant's reopening to herald the success of his recent tariffs.
On Wednesday, Trump will meet with European Commission President Jean-Claude Juncker, a meeting that comes a little more than a week after Trump characterized the European Union as a "foe" to the U.S. on trade and spurred controversy during the NATO summit in Brussels. It's currently unclear how the meeting will play out, though sources cited by Politico said Juncker could offer concessions on trade that would make Trump more likely to "declare victory and back off." German Chancellor Angela Merkel said during a press conference quoted by Politico that Juncker will "present possibilities for discussion" to Trump, but noted she was not "filling myself with expectations or predictions."
North Korea: This week could include a sign as to how U.S.-North Korean relations are playing out in the wake of Trump's summit with Kim Jong Un. U.S. officials currently expect North Korea to return the first group of possible U.S. soldier remains from the Korean War Friday, CNN reported, which marks the 65th anniversary of an armistice signing that ended the fighting.
Whether or not that delivery will actually happen, however, remains to be seen. The Washington Post reported Sunday that relations with North Korea have been strained recently, as North Korean officials have "canceled follow-up meetings, demanded more money and failed to maintain basic communications" while covertly continuing their nuclear efforts. Pentagon officials are reportedly wary of whether North Korea will come through on its pledge to return the remains on July 27 as a result, citing past cancellations. Pompeo's trip to North Korea on July 6 did not yield a meeting with Kim as planned, and a subsequent planned meeting on July 12 was canceled by the North Koreans after they kept the American delegation waiting for three hours.