Disney fires James Gunn from 'Guardians of the Galaxy Vol. 3' after offensive jokes come to light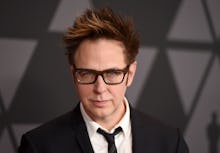 After coming under fire for offensive jokes made on Twitter nearly a decade ago, Disney has fired James Gunn — who directed Guardians of the Galaxy and Guardians of the Galaxy Vol. 2 — from the franchise's forthcoming third installment.
In recent days, Gunn drew ire from a number of conservative personalities, like Mike Cernovich, for offensive jokes about topics like pedophilia, rape and AIDS. On his site, Cernovich wrote that in his tweets Gunn "advocated for and seemingly admitted to being a pedophile." (Notably, Cernovich helped circulated the Pizzagate conspiracy theory.)
"The offensive attitudes and statements discovered on James' Twitter feed are indefensible and inconsistent with our studio's values, and we have severed our business relationship with him," Walt Disney Studios chairman Alan Horn said in a statement, according to the Hollywood Reporter. Per IMDb, Guardians of the Galaxy Vol. 3 is slated for release in 2020.
Thursday, before Disney announced it was parting ways with Gunn, he attempted to address his former tweets and characterize them as a form of shock humor he no longer employs.
"Many people who have followed my career know when I started, I viewed myself as a provocateur, making movies and telling jokes that were outrageous and taboo," Gunn tweeted. "As I have discussed publicly many times, as I've developed as a person, so has my work and my humor ... I used to make a lot of offensive jokes. I don't anymore. I don't blame my past self for this, but I like myself more and feel like a more full human being and creator today. Love you to you all."
Sign up for Hype Daily — Mic's morning entertainment roundup. It's got all the news you need to start your day.
July 20, 2018, 4:38 p.m. Eastern: This story has been updated.