Trump reacts to Cohen tape: "Your favorite president did nothing wrong!"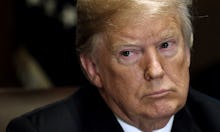 President Donald Trump took a direct shot at his longtime lawyer Michael Cohen Saturday, tweeting that it was "perhaps illegal" for his former fixer to have recorded their conversations, including at least one related to hush money to silence a Playboy model who says she had an affair with him.
"Inconceivable that the government would break into a lawyer's office (early in the morning) — almost unheard of," Trump tweeted. "Even more inconceivable that a lawyer would tape a client — totally unheard of & perhaps illegal."
"The good news is that your favorite President did nothing wrong!" Trump added.
The president was responding to bombshell reports Friday that the FBI had obtained a tape of Trump and Cohen discussing payments to former Playboy model Karen McDougal when they raided the lawyer in April.
It's not yet clear exactly what the nature of the discussion was.
Rudy Giuliani, the public face of Trump's legal team, said the payment was never made and suggested that the recording was "exculpatory" when the New York Times first reported on the matter. But a source told CNN later Friday that the conversation on the tape is "not good for the president."
McDougal is one of two adult stars who have said they were silenced during the campaign about the alleged affairs they had with Trump.
McDougal sold her story to the National Enquirer, which backed Trump in 2016, for $150,000 ahead of the election but the publication sat on the story in what's known as a "catch and kill" — the practice in which a tabloid purchases the rights to a story it doesn't intend to run in order to bury it.
David Pecker, the head of the Enquirer's parent company, is a close friend of Trump's.
The other woman, adult film actress Stormy Daniels, says Cohen paid her $130,000 in exchange for her silence about an affair she says she had with Trump in 2006.
That payout seems to be a significant part of a federal investigation into Cohen that's been going on for months, as the hush money may be in violation of campaign finance laws.
Pressure has been mounting on Cohen for months to comply with investigators, who raided him under referral from special counsel Robert Mueller in the spring. Cohen flipping could pose significant political, and possibly legal, problems for the president, given the lawyer's deep knowledge of his personal and business matters.
Trump had initially said publicly that he believed his longtime fixer would remain loyal to him, but Cohen has increasingly suggested he's preparing to cooperate with the feds as he grows more and more isolated from his former boss.
Trump had apparently been unaware of the recordings until he was told about them earlier this week. When he learned of their existence, he was reportedly stunned.
"I can't believe Michael would do this to me," he reportedly said.