Hype Daily: R. Kelly releases 19-minute song, San Diego Comic-Con trailers and more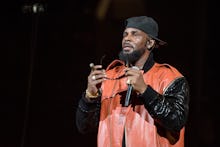 Welcome to Hype Daily, Mic's morning entertainment roundup. Here's everything you need to catch up on in the entertainment world and what to look forward to today. Want to receive this as a daily email in your inbox? Subscribe here.
Good morning from Hype reporter Tim Mulkerin.
R. Kelly posted a 19-minute musical response to sexual assault allegations on Facebook
In July 2017, BuzzFeed News published a lengthy report in which multiple parties accused R&B singer R. Kelly of manipulating and controlling women to be part of his sexually and emotionally abusive inner circle, described by some as a "cult." In May, two more women came forward, accusing the 51-year-old of sexually abusing them when they didn't follow his "rules" of conduct. In 2008, Kelly was acquitted on child pornography charges.
Allegations like these — that Kelly has repeatedly denied — led Time's Up, the gender equality initiative born out of the #MeToo movement, to spearhead the #MuteRKelly campaign, a call for a widespread boycott of the singer's music.
Late Sunday night, Kelly's Facebook page posted live video, which showed music-editing software playing back Kelly's newest track — a sarcastic, 19-minute-long response to the accusations in which he admits to various transgressions. "I admit I can't spell for shit," and "I admit I love God" are among his confessions. So brave.
Kelly's song also denies the allegations of sexual abuse and manipulation more directly, according to WKYS.
"Say I'm abusing these women/ What the fuck?/ That's some absurd shit/ They brainwashed, really?/ Kidnapped, really?/ Can't eat, really?/ Real talk, that shit sounds silly."
Shonda Rhimes is working on eight different Netflix series
In August, TV powerhouse Shonda Rhimes, creator of Grey's Anatomy and Scandal, announced she was leaving her longtime home at ABC for Netflix. According to the Hollywood Reporter, the Shondaland production company has plans for eight — yes, eight — different Netflix original series. Eight TV shows is a lot of TV shows.
Rhimes' new shows span a wide variety of genres, subjects and time periods, including the Jim Crow South, the life of former Reddit CEO Ellen Pao and some kind of post-apocalyptic comedy.
If you want to read descriptive blurbs of each planned show, check out the Hollywood Reporter.
A stunt for Sacha Baron Cohen's new show confused and enraged the people of Kingman, Arizona
In the second episode of Who Is America?, Sacha Baron Cohen's new political prank/stunt series on Showtime, Cohen — disguised as his new character Dr. Nira Cain-N'Degeocello — goes to Kingman, Arizona. There, he proposes plans to the town's citizens to replace a shopping center with a mosque that will cost $385 million. Hijinks and Islamaphobia ensue.
At the time of filming in January, local paper Mohave Valley Daily News reported on the meeting, according to Vulture. And it seems the incident sparked rumors that Cohen's mosque proposal was the real deal. Some suspected the whole thing was a stunt for TV meant to elicit reaction, but others weren't so savvy.
Producers claimed the filming "was for the architectural firm that was going to build the mosque," Venessa Mudge, who attended the filming, said, according to the Mohave Valley Daily News. "We even tried pointing out to those around us to stop playing into the speaker's hands by responding because it was all a set up. So many members responded with hate, some with blatant racism and a whole lot of ignorance."
Put this on your radar: San Diego Comic-Con trailers aplenty
Over the weekend, San Diego Comic-Con happened, which means that a bunch of movie studios released trailers for new projects. Here are the biggies.
• Aquaman, the new standalone DC Comics movie featuring Jason Momoa as a man who can command sea life.
• Shazam!, another upcoming DC comics film about a teenage boy who can turn into a muscly superhero, played by Zachary Levi, by saying "shazam."
• Fantastic Beasts: The Crimes of Grindelwald, the sequel to the 2016 film Fantastic Beasts and Where to Find Them, is the second entry in the Harry Potter prequel series.
• Glass, M. Night Shyamalan's new movie that's the latest chapter in the shared universe between the 2000 film Unbreakable starring Bruce Willis and Split, the 2016 movie starring James McAvoy.
• Godzilla: King of the Monsters, which is yet another Godzilla movie — this time, starring Millie Bobby Brown, who you know as Eleven from Stranger Things.