Today in Trump's America: Trump threatens Iran with "CONSEQUENCES" that few "HAVE EVER SUFFERED"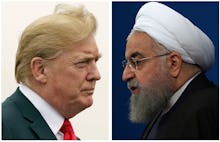 Welcome to Mic's daily read on Donald Trump's America. Want to receive this as a daily email in your inbox? Subscribe here.
Good morning from Emily Singer at Mic.
Check out Mic Dispatch, Mic's new show reporting on the problem-solvers and the provocateurs in our changing world. Subscribe here for alerts on new episodes airing Tuesdays and Thursdays, 8 p.m. Eastern, on Facebook Watch.
Here's what's happening in Trump's America:
• Trump receives his daily intelligence briefing at 11:30 a.m.
About last night: Trump issues all-caps threat to Iran
That's one way to change the subject.
Trump threatened Iran in a tweet late Sunday night, warning the country to "NEVER, EVER THREATEN THE UNITED STATES AGAIN" or else "SUFFER CONSEQUENCES THE LIKES OF WHICH FEW THROUGHOUT HISTORY HAVE EVER SUFFERED BEFORE." (All capital letters from Trump.)
"WE ARE NO LONGER A COUNTRY THAT WILL STAND FOR YOUR DEMENTED WORDS OF VIOLENCE & DEATH," Trump continued. "BE CAUTIOUS!"
The tweet comes in response to remarks Iranian President Hassan Rouhani made earlier Sunday in which he warned the United States against reimposing sanctions that had been removed under the Iran nuclear deal that Trump pulled the U.S. out of.
"America should know that peace with Iran is the mother of all peace, and war with Iran is the mother of all wars," Rouhani said Sunday, according to the Washington Post.
Pompeo had also spoken about Iran earlier in the day, comparing Iranian leaders to the mafia and saying the U.S. will go around Internet censorship in the country to broadcast in Farsi and possibly spark the people of Iran to overthrow the leadership of the country.
"The level of corruption and wealth among regime leaders shows that Iran is run by something that resembles the mafia more than a government," Pompeo said in a speech at the Ronald Reagan Presidential Library in Simi Valley, California.
Trump's threats against Iran come as he continues to face backlash over his disastrous summit last week with Russian President Vladimir Putin.
The rhetoric the Trump administration is using against Iran is far harsher than how the administration is currently treating Russia, which has waged provocative cyberattacks against the U.S. and has an oligarchy that is worth billions, including Putin who is accused of stealing hundreds of billions from the Russian people.
Earlier, Trump reverted to his position that Russia didn't interfere in the 2016 election — once again going against the unanimous conclusion of the U.S. intelligence community, which has shown Trump evidence of Russia's cyberattacks.
"So President Obama knew about Russia before the Election. Why didn't he do something about it? Why didn't he tell our campaign? Because it is all a big hoax, that's why, and he thought Crooked Hillary was going to win!!!" Trump tweeted earlier Sunday night.
The Obama administration did warn the Trump campaign of Russia's attacks.
Ironically enough, Trump (falsely) predicted multiple times that former President Barack Obama would launch a war against Iran to try and show he's "tough" — yet another instance of there being a previous Trump tweet for every moment.
"Remember that I predicted a long time ago that President Obama will attack Iran because of his inability to negotiate properly - not skilled!" Trump tweeted in November 2013.
"Remember what I previously said--Obama will someday attack Iran in order to show how tough he is," Trump tweeted in September 2013.
"I predict that President Obama will at some point attack Iran in order to save face!" Trump tweeted earlier in September 2013.
"Don't let Obama play the Iran card in order to start a war in order to get elected--be careful Republicans!" Trump tweeted in October 2012.
"Now that Obama's poll numbers are in tailspin – watch for him to launch a strike in Libya or Iran. He is desperate," Trump tweeted earlier in October 2012.
Today in Trump's America: Trump can't change the topic away from Russia that easily
Even a threat of war with Iran won't be enough to push Trump's widely panned meeting with Putin out of the news this week.
Pompeo is set to testify before the Senate Foreign Relations Committee Wednesday about Trump's meeting with Putin as well as Trump's meeting with North Korean leader Kim Jong Un. Trump met alone with both dictators, and the Senate wants to know exactly what was said in those meetings — as news continues to trickle out about what Trump discussed with Putin that's forced his administration into clean-up mode multiple times.
Even more, the first trial against former Trump campaign chairman Paul Manafort begins Wednesday, which will further keep Russia in the news and remind Americans about special counsel Robert Mueller's investigation on a daily basis.
On top of all that, Trump and his defenders are trying to spin the warrant federal investigators received to surveil former Trump campaign aide Carter Page. The documents the FBI released blow up the argument — crafted by GOP Rep. Devin Nunes of California — that the government wrongly surveilled the Trump campaign through Page.
Nunes said the FBI omitted from the document that the Fusion GPS research from former British spy Christopher Steele — which was used to obtain the warrant against Page — was funded by people in the Clinton campaign.
In fact, the warrant does say Steele's findings were funded by people looking for negative information about Trump and also includes other damning information about Page's communications with Russians that led to the surveillance warrant.
The 400-page document says Page "established relationships with Russian government officials, including Russian intelligence officers" and the "FBI believes the Russian government's efforts to influence the 2016 U.S. presidential election were being coordinated with Page and perhaps other individuals associated with [Trump's] campaign."
And the rest…
Kavanaugh's past comes into focus: Past comments from Trump's Supreme Court nominee Brett Kavanaugh continue to surface, and they could lead to fireworks during his confirmation process.
It's become clear from past writings that Trump chose a Supreme Court nominee whose legal beliefs would favor Trump if he's ever subpoenaed by Mueller's team or if Mueller recommends an indictment against Trump.
In documents Kavanaugh provided to the Senate Judiciary Committee as part of his nomination process, there is a 1999 comment in which Kavanaugh says the unanimous Supreme Court decision that forced former President Richard Nixon to turn over his Watergate tapes to the court may have been incorrectly decided.
"Maybe Nixon was wrongly decided — heresy though it is to say so," Kavanaugh said, according to the Associated Press. "Nixon took away the power of the president to control information in the executive branch by holding that the courts had power and jurisdiction to order the president to disclose information in response to a subpoena sought by a subordinate executive branch official. That was a huge step with implications to this day that most people do not appreciate sufficiently. … Maybe the tension of the time led to an erroneous decision."