Judge rules anti-abortion protesters in New York did not unlawfully harass patients and staff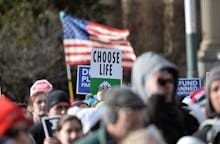 A federal judge in New York upheld the rights of anti-abortion protesters Friday, ruling that protesters outside the Choices Women's Medical Center in Jamaica, Queens, did not violate the law by harassing patients and their escorts entering the clinic.
Former New York Attorney General Eric Schneiderman filed suit against 14 protesters in June 2017, alleging they subjected incoming clinic patients and volunteer escorts to a "barrage of unwanted physical contact, as well as verbal abuse, threats of harm and lies about the clinic's hours and its services."
Schneiderman's office said that protesters had been gathering outside the medical center on Saturdays between 7 and 10 a.m. since 2012, running up to people walking up and down the street, yelling and preaching loudly, following patients to get them to take pamphlets, obstructing patients' paths into the clinic and even bumping and shoving patients' escorts.
The attorney general argued their behavior violated a handful of laws, including the Freedom of Access to Clinic Entrances Act, the New York Clinic Access Act and the New York City Access to Reproductive Health Care Facilities Act.
District Judge Carol Bagley Amon, who was nominated to the bench by President George H.W. Bush, denied the state's request for a preliminary injunction against the protesters, classifying many of the state's witness testimony as "unreliable" and ruling that the evidence provided of the protesters' behavior does not violate the laws. She said protesters were trying to "toe the line" between lawful and unlawful conduct.
Amon dismissed concerns of intimidation, saying the escorts were familiar with the protesters and not genuinely fearful. The allegedly threatening comments included protesters telling volunteer escorts "they could die from being shot by a bullet while on the sidewalk" shortly after a shooting at a Planned Parenthood in Colorado Springs, Colorado, and telling one escort, "You're going to kick the bucket soon, Marylou."
Amon did acknowledge that certain actions violated the laws, such as telling a patient and her mother that the clinic was closed when it was in fact open, and one protester "physically obstructing patient access" to the clinic. Yet Amon still denied the preliminary injunction in these cases, saying she does not "find it reasonably likely that they will engage in this conduct again."
Amon also did not uphold defendants' claims that the New York City Access to Reproductive Health Care Facilities Act, which makes it unlawful to "follow and harass another person within 15 feet of the premises of a reproductive health care facility," is "unconstitutionally vague and overbroad."
Amon knocked down claims that protesters were harassing patients and escorts, saying in her ruling that sidewalk counseling has been recognized as a legitimate First Amendment exercise
In an emailed statement, Amy Spitalnick, communications director and senior policy adviser for the New York attorney general, said the Office of the Attorney General was "reviewing [its] options" regarding a potential appeal, as "the evidence detailed a clear pattern of harassment." The office previously had success establishing a court-mandated buffer zone around a Planned Parenthood facility in Utica, New York, in 2012.
"This office won't hesitate to take on the tough fights necessary to protect women's fundamental rights — and that includes access to reproductive health care without harassment or threats," Spitalnick said.
Choices President Merle Hoffman said in a statement on Twitter that the clinic "will never be deterred in its commitment to provide the best reproductive health care possible — including abortions."
"Volunteer escorts will continue to support and protect patients from anti-choice harassment," Hoffman wrote. In an interview with the New York Times, Hoffman noted that women arriving at the clinic on Saturdays are often "shaken" once they're inside, and said Amon's ruling "dismissed the lived experiences of the patients, the staff and the escorts."
Though Amon upheld the protesters' rights, she also warned that her decision "should not embolden the defendants to engage in more aggressive conduct."
"In a few instances noted, several of the defendants' actions came close to crossing the line from activity protected by the First Amendment to conduct prohibited by NYCCAA," Amon wrote.
She warned that any activity that suggests an "intent to annoy rather than to persuade" would violate the law.
Whether protesters will make that voluntary choice, however, is unclear. In a statement quoted by the New York Times, pastor Kenneth W. Griepp from Church of the Rock, who was one of the named defendants, said the so-called "sidewalk counselors" would "continue to offer compassion to those who see abortion as the only way out of an unexpected pregnancy."
Anti-abortion law and policy organization Liberty Counsel, who represented defendant Scott Fitchett in the case, said in a statement that Amon's ruling "completely vindicates Scott Fitchett because he did nothing wrong."
"Scott Fitchett's preaching of the gospel on a public sidewalk is protected by our Constitution, even if it's in front of an abortion clinic, and even though New York's attorney general despises it," Horatio Mihet, Liberty Counsel's vice president of Legal Affairs and Chief Litigation Counsel, said in a statement.
Friday's ruling comes at a contentious time for the debate over abortion access, as the impending confirmation of Judge Brett Kavanaugh to the U.S. Supreme Court has led many to speculate that reproductive rights rulings, including Roe v. Wade, could be weakened or overturned. The most recent Supreme Court session included a separate First Amendment-related abortion challenge; the court ruled in June that faith-based "crisis pregnancy centers," which counsel women against abortion while often disguised as medical facilities, could not be legally required to disclose their unlicensed status.
The New York ruling also comes as anti-abortion advocates have reportedly ramped up their efforts against abortion clinics. The National Abortion Federation reported "a significant increase in activities aimed at disrupting services, intimidating providers and patients, and preventing women from obtaining the health care they need" in a 2017 report. There were 1,704 reported incidents of "obstruction" in 2017, as compared with 580 in 2016, while incidents of death threats or threats of harm raised from 33 in 2016 to 62 in 2017. The NAF attributed this rise to "anti-abortion extremists feeling emboldened by the current political environment."
In Indiana, a Planned Parenthood clinic in Fort Wayne was forced to close its doors in July, citing intimidation and harassment from anti-abortion groups. Anti-abortion advocates from the organization Operation Save America also sent hundreds of flyers to neighbors of two Indianapolis-based doctors who work at Planned Parenthood and perform abortions in July, which included the doctors' names and home addresses. According to WTHR, one mailer said the doctor "murders children" and calls on neighbors to "tell him to repent of killing pre-born children."