Jada Pinkett Smith is your new favorite talk show host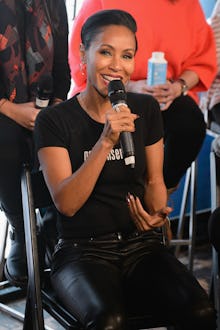 In May, when Jada Pinkett Smith announced she would host a show called Red Table Talk for Facebook Watch — it also premiered that same month — my immediate reaction was to check her IMDb page and see if she was going through some kind of dry spell outside of Girls Trip. After that came a lil' bit of shock: Facebook is slinging data and talk shows now?! And finally, my cynicism kicked in over the series being described as one that, for each new episode, dives into a "red hot topic" each week. It sounded like The Secret meets the redux version of The Ricki Lake Show, more self-help themed, less '90s ratchet) that got quickly canceled.
Then I had an epiphany: I needed to finally let go of my one-sided feud with Jada Pinkett Smith over those terrible attempts at a Houston accent in Jason's Lyric and give her new show a fair chance. So, I did and now I'm regretting never buying a Wicked Wisdom album. Red Table Talk is such an impressive show and, judging from the millions of people who've watched the series, it provides a service that many are drawn toward.
To make it clear that she's going to be as transparent as possible, for the premiere episode Jada sat down with Sheree Zampino Fletcher, who happens to be her husband Will Smith's first wife and mother of his eldest son, Trey. Although some know of their struggles to forge a cordial relationship from past interviews (plus the fictionalized account of their blended family woes on UPN's All of Us starring Our Lady of the White Party, LisaRaye McCoy), the intimate one-on-one held on Jada's property for the show yielded a much more intimate conversation. In one exchange, Fletcher recalled not being "respectful" to Jada, Jada responding in kind and the situation boiling to the point that Will had to step in.
"Will Smith let me have it," Jada shared. "His take was, 'That is Trey's mother and that's just not your place.'" Eventually, the two learned to get along for the betterment of their family. Another person Jada didn't fancy so much is actress Gabrielle Union. In their episode, the two discussed a rift that neither could properly identify the cause of.
Other highlights include the episode with Magic Johnson's wife, Cookie Johnson, and their son, EJ Johnson, who is often celebrated for his genderqueer style. In that interview, Jada acknowledged that even her husband Will struggled a bit when their son Jaden Smith wore a skirt in a past Louis Vuitton campaign. Ultimately, Jada got Will to understand the importance of their children having freedom of expression. Cookie and EJ revealed that Magic initially struggled with this, too, out of concern for how the world might treat their children for deviating from the norm.
It was an honest, respectful multi-generation conversation between Jada, her mother and her daughter, along with Cookie and EJ, about coming to grips with realizing their kids have to be their own people. And frankly, it was nice to hear a conversation between black parents about gender roles and sexuality that didn't deviate into tropes about black homophobia and how most black folks are much more homophobic than everyone else alive.
However, what perhaps has been the most forthright conversation on Red Table Talk centers on Jada's mother, Adrienne Banfield-Jones, who — along with Jada's daughter, Willow Smith — serves as the show's cohost. After struggling with addiction for more than 20 years, Banfield-Jones has been sober for nearly three decades. It's a subject that she opened up about in an episode titled "Facing Addiction." Tears run down her face as she acknowledges that while it is difficult "to talk about something that is gonna go out to the world," it is necessary — particularly because we got to hear the perspective of the child her addiction impacted.
"I think I didn't find out my mother was addicted to heroin until I was in my teens," Jada says in the episode. "I could tell when my mother was high. She couldn't make it on time to pick me up from school. Or she's nodding off, falling asleep in the middle of something. You just realize, 'Oh, that's not being tired; that is like, a drug problem.'"
"Facing Addiction" also features R&B singer August Alsina, who opens up about his addiction to Percocet. "I literally had an endless supply of Percs," he explains on the show. "If you asked my brother, anybody … I'm like, raining Percs. Off my body, off my house. I was literally raining pills like Skittles." He goes on to say in the episode that after reaching out to Will and Jada he's been able to get help to recover from his addiction.
None of these stories are necessarily new to the talk show format, but they are covered in such a thoughtful, mature way that it immediately separates the show from similar projects — particularly ones anchored by established celebrities. And that includes this decade's The Queen Latifah Show, which Jada produced.
Despite being a fan of Queen Latifah and forever her defender for starring in Living Single, her daytime talk shows arguably failed. Because for all the charisma Latifah possesses, audiences want to really be let into the world of the hosts in some tangible way. She came across as an actress playing a talk show host rather than someone willing to dive deeper into her personal life. It's a distinction that's often helped talk show hosts succeed through the years — even the admittedly paranoid Wendy Williams talks about her son and husband to some extent.
That doesn't mean talk show hosts should give fans the last four digits of their Social, but it requires a specific level of intimacy. Jada understands this and that is why Red Table Talk works so surprisingly well. Like, if I'm going to watch some wealthy celebrity host a talk show in which she talks to her famous friends at her lavish estate with her kinfolk popping up, Jada is the rich woman I want to watch. The show's inaugural season is over — the production's currently on hiatus until the fall — but its first 10 episodes are available to watch, so there's plenty of time to catch up on the conversation.
Jada, you really got this right.