Here are the 10 best looks from episode 8 of 'Pose,' including a winged gown and feathers for days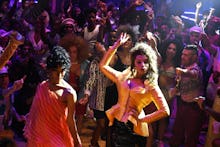 Sunday night marked the end of the inaugural season of FX's Pose — and what a finale it was. All season long, we've been building to this episode's ball, where Pray Tell (played by the impossibly regal Billy Porter) doled out the Mother of the Year award.
Before giving out the season's last trophy, however, the cast of Pose delivered look after look in the ball's main categories. Unsurprisingly, Elektra, the newest member of the House of Evangelista (played by Dominique Jackson), continued her season-long reign as Pose's untouchable look queen.
Here's our last Pose fashion roundup until the show graces our screen once more with the eventual debut of season two.
10. Elektra's "I threw this on last minute and still look incredible" brown trench coat
9. Blanca's flowing, one-shoulder summer melon dress
8. Veronica's mother-of-the-bride look
7. Blanca's canary yellow, caped Greek goddess gown
6. This Big Bird meets Las Vegas showgirl moment
5. Aphrodite's Mariah Carey waves and pink strapless gown
4. Pray Tell's Mad Hatter meets New York outfit
3. Angel's feathery, angelic dress and blue heels
2. Lulu's golden vampire supervillain top
1. Elektra's ethereal, golden goddess gown