Georgia lawmakers want Jason Spencer to resign after a life-ruining appearance on 'Who Is America?'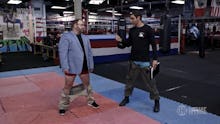 Following an appalling appearance on Sacha Baron Cohen's new political stunt show Who Is America? Georgia lawmakers are calling for state Rep. Jason Spencer's resignation.
During Sunday night's episode of the new Showtime series, Cohen disguised himself as one of his latest characters, Israeli "anti-terrorism expert" Erran Morad, and invited Spencer to learn a number of techniques to guard himself against Islamic extremists. (In 2016, Spencer introduced a bill that would have banned Muslims from wearing head coverings.)
One technique Cohen suggests Spencer try is pretending to be a Chinese tourist to get closer to potential terrorists. Spencer obliges, pretending to be Chinese by speaking racist gibberish, throwing in random phrases like "red dragon," "Hong Kong" and "Konichiwa" — which, notably, is a greeting in Japanese.
Later, Cohen says that if Spencer is ever in immediate danger of being kidnapped, Spencer should use "the n-word," which he calls America's "one forbidden word," to draw attention to himself.
"Now, I am going to be the terrorist," Cohen says. "You have three seconds to attract attention. Go."
Spencer responds by yelling "n*gger" multiple times.
Later, Cohen suggests a role-play scenario in which Spencer thrusts his bare buttocks at him as a way to threaten potential terrorists. (Cohen tells Spencer that members of ISIS believe coming in contact with a man's buttocks will turn them homosexual.)
Again, Spencer obliges, shouting "America" as he runs backward, buttocks-first, at Cohen.
Spencer issued a statement in response to the episode, saying he was told "the video [he filmed with Cohen] was intended to be an educational aid to train elected officials who may be targeted by terrorists."
"They exploited my state of mind for profit and notoriety," Spencer said. "This media company's deceptive and fraudulent behavior is exactly why President Donald Trump was elected. Furthermore, there are sensitive parts of this training that took place under a kidnapping scenario where I was repeatedly asked to shout provocative language which I requested be removed."
Spencer then said he "sought legal counsel" to challenge the show's use of the footage.
Monday morning, Georgia lawmakers spoke out against Spencer, demanding he resign, according to the New York Times. Spencer has declined to do so. In a statement sent to the Washington Post, Spencer said he recently lost his primary, and thus would wait until the end of his term to vacate his position.
"I apologize to my family, friends and the people of my district for this ridiculously ugly episode," Spencer said. "There are calls for me to resign. I recently lost my primary election, so I will not be eligible to hold office next term. Therefore, I will finish the remaining five months at my post and vacate my seat."
Reportedly, Cohen "duped" a number of other prominent politicians during filming for Who Is America? including former Alabama gubernatorial candidate Roy Moore and former vice presidential candidate Sarah Palin. They haven't appeared on the show yet — but here's to hoping they were smart enough to keep their pants on.
Sign up for Hype Daily — Mic's morning entertainment roundup. It's got all the news you need to start your day.